Australian Shepherd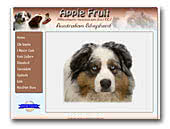 Applefruit Kennel - Australian Shepherd
Allevamento riconosciuto ENCI e FCI per la selezione dell'Australian Shepherd.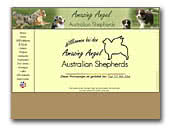 Amazing Angel Australian Shepherd
Hello
My Name is Jenny, i live with my two Aussie Girls in Germany. My Dogs are a part of my live and they were everytime on my side.

Puppys were born in my sleepingroom and grow up there for the first three weeks, then they come with us in the living room and outside in the garden. When you want more, please fell free to visit us on our Homepage.
Greetings Jenny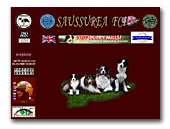 SAUSSUREA FCI
We are small home kennel located in Poland. All my dogs live together with me enyoing shows, agility and herding. We will have puppies only occasionally but we will breed for temperament, health and top show quality using american bloodlines. For more information and pictures please visit my webside.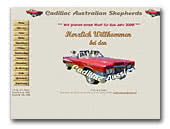 Cadillac Australian Shepherds
Breeder of Australian Shepherds in Germany. We breed quality Aussies for Show, Sports and family dogs! Aussies for Show & Fun !!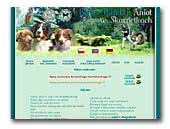 Borys Band Australian Shepherd
Australian Shepherd breeder in Poland.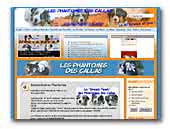 Les Phantomes des Callas
Bergers Australiens
Breeders of Australian shepherd in the center of France.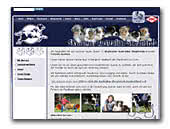 Skyhunter Australian Shepherds
Skyhunter Australian Shepherds ehemals Colonia Aussies. A little Australian Shepherd Kennel in Germany Member of FCI and ASCA

Unser kleiner Aussie Kennel liegt in Bergisch Gladbach am Stadtrand von Köln.

Unser Ziel ist es, einen gesunden und wesensfesten Aussie zu züchten, der sich sowohl in der Familie, im Sport als auch im Showring bewährt. Wir betreiben selber erfolgreich Obedience, Disc Dogging und Agility. Durch Seminare bilden wir uns ständig in Hundesport, Austellungswesen und Genetik weiter. Wir züchten unter dem VDH im Club für Australian Shepherds Deutschland e.V. .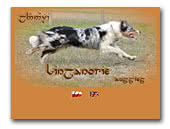 Lintanorie Aussies
Small home kennel where dogs are friends first. My passion is dog training, agility being the favourite sport. That's why in my breeding I want to lay emphasis on temperament, health and good, functional structure. I want the Aussie to be a versatile, biddable, moderate and athletic dog.


Sipawaban's kennel
Elevage familial de berger australiens. Parents testés dysplasies, tares oculaires et MDR1, sélectionnés sur leur caractère, santé, morphologie, issus d'excellentes lignées. Chiots LOF et certains ASCA, pucés, vaccinés, correctement vermifugés, socialisés et pré-éduqués (clicker-training).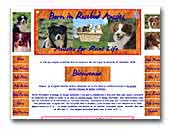 Born in Rosebud Aussies
BORN IN ROSEBUD AUSSIES Australian Shepherd Kennels - France, Prades. Small aussies Kennel located in the south of France trying to produce versatile australian shepherds. Lots of pictures and infos on the breed and us on our international website in english.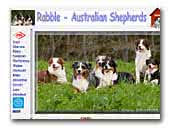 Rabble Australian Shepherd
Our dogs are raised in the family. We breed FCI according to the breeding regulations of the CASD, VDH, under compliance of the valid animal protection regulations and the acknowledged breeding order of the above-mentioned associations. As breeders we must fulfill certain conditions and editions so that our pups receive their acknowledged papers.

Our pups are given with papers VDH/CASD, worm-free, with inoculations. A VDH/CASD Ahnentafel confirms that to you your pup from a controlled breeding come. To delivery of our pups we are available still with pleasure also afterwards with council and action.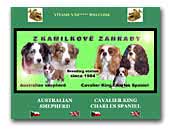 Z KAMILKOVÉ ZAHRADY
Kennel of Australian shepherds and Cavalier King Charles Spaniels. I am breeding dogs since 1984.
Cavalier King Charles Spaniel