Australian Shepherd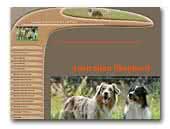 deckaussie.de
Australian Shepherd Deckrüden und Welpen-Vermittlung

Wir sind eine "kleine" Australian Shepherd Familie, und haben es uns zur Aufgabe gemacht, interessierte Aussie-Fan's bei der Welpensuche zu unterstützen. Wir vermitteln regelmäßig Welpen von ausgesuchten Züchtern. Für Züchter bieten wir Deckrüden zur Belegung von zuchttauglichen Hündinnen an.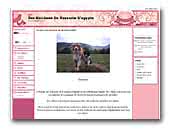 Des Narcisses du Royaume d'Egypte
Australian shepherd in French in the Tarn. Small family breeding. The health and the love before the quantity. Come to discover my dogs and their life.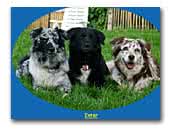 Taraelius Aussies
We are a small kennel who breed occasional Australian Shepherds. We live in the south of the Netherlands near the German border. Our Aussies live inside our house and when they get a litter the puppy's will be born and raised in our livingroom.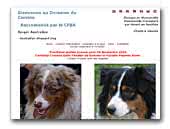 Domaine Du Cervine
Elevage famial de berger australien Australien Shepherds. Chiots elevée avec soin et amour adultes teste Dysplasie HD/CD plus MOHC ADN Mdri caracter chiots de parents selecté pour le ameloriation de la race.


de L'Orée du Lison Australian Shepherd
Nestling in the foothills of the Jura mountains close to Switzerland, all of our breeding pairs have been OFA Certified good or excellent & eyes cleared annually. They are selected regarding their morphology, temperament and genetics according to the breed standards. A litter born on 10/16/10 is now available.

More services : our Boarding Kennel is a familial structure, your dog will stay within our home every night, that's why we accept no more than 5 dogs at the same time..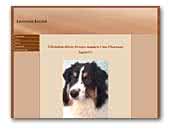 Lawrence kennel
Silver Dream Aussie's Uma Thurman lapja.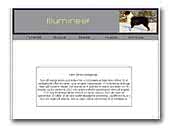 Illumineer Australian Shepherd
Small hobby based kennel dedicated to breeding top quality Australian Shepherds. Our kennel is located in Denmark and is registered with DKK (Danish Kennel Club) and is therefore under FCI.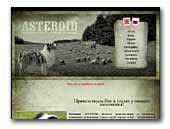 ASTEROID Australian Shepherd Kennel
Australian Shepherd breeder from Russia.

Племенной питомник Австралийских овчарок Asteroid.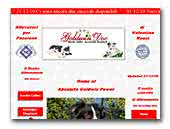 Goldwin Doc Kennel
Border Collies, Australian Shepherds
We're reconized by Enci (Italian Kennel Club) and Fci. All our reproducers are tested and free from genetic deseases, Dna tested for Cea Pra Hsf4, and free from hip dysplasia. Top show blood line.

All our litters are planned carefully and available to approved homes only. We are careful to use dogs sounding health, beauty and character and closely conform to the breed standard.All our puppies are born and raised in the house with us (they are not kenneled).
Border Collie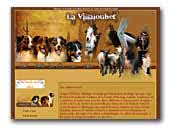 Berger Australien DE LA VILLA LOUBET
Elevage familial située en France dans le Lot.

Australien Shepherd Breeder, we live in France near from Cahors (Lot).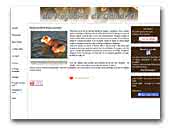 Le Royaume de Galadriel
Australian shepperd breeder in Britany, France.

Elevage familial de Bergers Australiens. Nous sommes situés en Bretagne, à Marzan, près de La Roche Bernard. Cet élevage est un petit élevage amateur (amateur dans le sens non professionnel), désirant produire de beaux et bons chiots, dans le respect de l'animal et de la nature. (Chez nous les chiens ne connaîtrons jamais la vie en chenil, queues et ergots ne seront jamais coupés et ils sont nourris avec des croquettes écologiques Amikinos)... .

Dali notre chienne est arrivée en Février 2008, à l'âge de 3 mois. Elle habite dans la maison avec nous, nous suit partout lors de nos balades et voyages, a fait des expos, a montré des aptitudes au travail sur moutons lors d'un stage "troupeau", fréquente le club de dressage, et surtout fait des promenades régulières à la plage, en forêt, en ville, etc...

C'est une chienne super gentille, qui a toujours un oeil sur son "troupeau"  (sa famille : nous et nos enfants,, les poules, les chevaux, le chat...).

Comme nous la trouvons exceptionnelle, c'est tout naturellement que nous avons eu envie de faire un peu d'élevage pour que ses qualités se transmettent.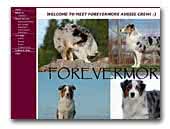 Forevermore Aussies
Forevermore is a small hobby kennel located in southern Finland. Our passion for Aussies started in 2000. We strive to breed happy and healthy Australian Shepherds with correct type, movement and temperament. Puppies occasionally.