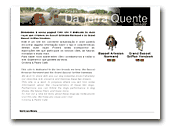 da Terra Quente
This site is dedicated to the two breeds we love: the Basset Artesien Normand and the Grand Basset Griffon Vendeen. We wish to share with you our dog breeding project whereby our objective is to preserve and improve these two breeds.

This site is a work in progress where you will find some information about the characteristics of these two dogs. Furthermore you can follow the dogs performance in dog shows, the future litters and many more.

To find out a little bit more about these dogs we invite you to visit this site. We hope you enjoy your visit.
Grand Basset griffon vendéen