Bull Terrier / Miniature Bull Terrier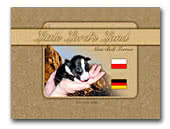 Little Lord's Land Kennel
Little familial Minibullies Kennel - selection and passion.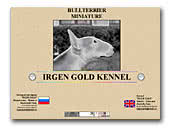 IRGEN GOLD kennel - Bullterrier miniature
All about our lovely mini-bull ...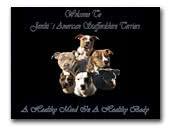 Jeniki's American Staffordshire Terriers
We have had the breed for almost 13 years now, love the breed and are devoted to breed puppy's in the future with good health, puppy's to both show and Family. No primary outside kennels here, the dogs lives with us ...

You are always welcome to pay us a visit if you like. We sometimes have puppy's ... - but breeding puppy's is not the biggest goal in our life ;)
American Staffordshire Terrier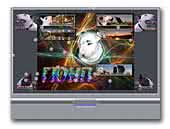 Gjunp kennel
bullterrier & miniature bullterrier
All hello!¬ It is a new site ¬ęGjunp¬Ľ, and more precisely his kids.¬†I, Gyunp Polyushka Clear Eyes,¬† borned and grew in saint Petersburg in the eldest nursery of ¬ęGyunp¬Ľ. In age 7 months I first went out on an exhibition and became the best puppy NKP ¬ęBul'ter'er¬Ľ of 2005.

My exhibition career proceeded and now I am Young Champion of Russia, National Champion and –Ņ—Ä.¬ I live and raise a proprietary child with which we undertake very noisy and merry games. I am a very kind girl, very love people especially men. I will be very glad, if you will decide to lead itself bul'tika, and yet more, if it will be dog from our nursery or my future sonnies and daughters.

Not able to take a telephone, but trust all of negotiations with my "mother" Tat'yana or Natalia Anatol'evna /my "grandmother"/. I have a very comfortable mother and grandmother, they vetvrachi, so that will always give a help and will not leave you regardless. For us very colourful exhibitions and banquets are conducted.
So ring, will be soviet.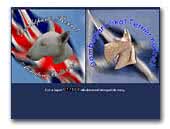 Domboparti Kennel
The home of the famous Domboparti Miniature Bullterrier Kennel.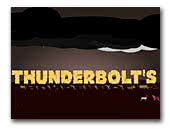 Thunderbolt's Bullterrier Kennel
The bullterrier is a very special breed in view of its appearance and character. We had decided on this playful, family oriented dog when we bought our first bully in 1996. We thank her for our first show successes which determined our life with this breed further on.

During the years our ideas about the bullterrier has changed a lot but our aim is still that we only breed healthy and good-natured bullies in our kennel.

We are greatly involved in helping bullterriers in trouble.

Andrea and √Ārp√°d Fekete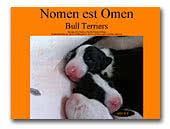 Nomen est Omen Bull Terriers
This site is dedicated to our beloved breed the Bull Terrier. If you are interested in our Bullies, please visit our website!



LOS NARIZOTAS Bull Terrier Miniatura
Criadero especializado en la raza Bull Terrier Miniatura. Ejemplares de las mejores lineas Inglesas y Australianas. Cachorros disponibles ocasionalmente.

Breeding-place specializing in the race Bull Terrier Miniature. Dogs of the best English and Australian lines. Available puppies occasionally.