Bull Terrier / Miniature Bull Terrier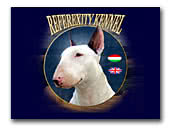 Referexity Kennel - Bull terrier
High quality limited puppies are available from healthy, good tempered, multi champion parents. Among ancestors are English Champion, World Winner, Continent Winner, Winner of the C.E.T.S. Trophy dogs.

An unrepeatbale mating, we are looking for new loving owners that know and understand the breed. If you are interested in our bullies, please visit our website!



Les Près d'Hermare Bull Terrier
Les Près d'Hermare, la passion du bull terrier depuis 1998. Beauté, Caractère et Santé sont les priorités de notre sélection. Reproducteurs importés ou issus de lignées internationales. Tests de dépistage de maladies génétiques. Suivi d'élevage et conseils d'éducation.

Uniquement Chiots inscrits LOF sur réservation ou parfois disponible.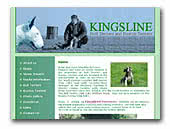 Kingsline Boston Terriers & Bull Terriers
Brian and Fiona King live in Essex, England and have an active interest in the promotion of Bull Terriers and Boston Terriers and are involved in the management of clubs as Secretary to the South Eastern Counties Bull Terrier Club (UK) and, until recently, Show Manager of the Wickford, Basildon & District Canine Society, with whom Brian maintains close ties. Brian is also the South Eastern co-ordinator for The Bull Terrier Club (UK) Welfare Trust. They are also members of The Boston Terrier Club (UK).
Boston Terrier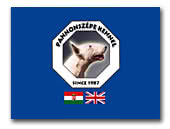 Pannonszépe English Bullterreier Kennel
Hungarian Bullterrier Kennel. Please visit my web-site and I wish you a good-time!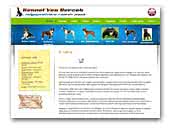 Kennel Von Bercek
Bercek kennel has been breeding/raising pedigree dogs for 40 years. Our first pedigree dog was (Smooth) Short-haired Dachshund. Until we became a registered kennel, we had bred/raised a number of different breeds of pedigree dogs. In 1990, we imported the first English Bull Terrier.

We registered our kennel in July 1992 under the name Von Berèek FCI 3288. Since then, we have been breeding/raising pedigree dogs professionally.After some time we have started to raise new breeds apart from English Bull Terrier and so far six new breeds of dogs have been introduced: the American Staffordshire Terrier, English Bull Terrier, the Shar Pei, the Boston Terrier, the Whippet, and the Italian Greyhound.In November 2008 we imported a new breed again: the Staffordshire (Staff) Bull Terrier-two females and a male and in March 2009 a (Miniature) Bull Terrier. We will try to raise these two wonderful breeds of dogs as there are almost non-existent in this part of Europe.

Our professional and successful work has led to numerous recognitions: some 250 dog show trophies and awards, medals and championships- all won in our country or abroad. Puppies we have raised so far have been sent in many countries all over Europe and their owners inform us if their pet has participated or won the competition. In the beginning, our kennel was situated in the town of Kikinda but in 2006 we have moved to Zrenjanin where we built up the dog kennel complex following the European standard. Currently, there are 30 dog boxes (open or closed type) with heated/thermal dog houses and sanitary sewer system, fully air-conditioned, with automatic dog feeders and a dog run.
American Bully
Staffordshire Bull Terrier
Italian Greyhound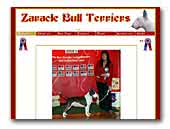 Zaracle Bull Terriers
and Smooth Fox Terriers
Zaracle is a samll family based Show Kennel set in the heart of Northern Ireland. Here at Zaracle we believe in quality not quantity and strive to produce top quality dogs that excell in breed type, sound temperments and are most importantly health tested.

Feel free to browse our site for updates on our dogs, litters, new additions and show wins.
Fox Terrier Smooth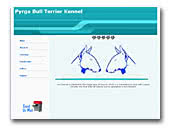 Pyrga Bull Terrier Kennel
We specialise in the breeding of champion Bull Terriers.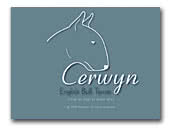 Cerwyn - English Bull Terrier Kennel
Cerwyn is a small English Bull Terrier Kennel in Greece. We work with champion lines from the UK. On our website you will find information about us, our dogs and the lines we work with.