Chihuahua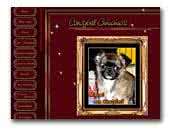 von Candybell - Chihuahua
Welcome to all Chihuahua Friends!
Chihuahuas belong to one of the wonderfull Dog-Personalities. They are happy, brave, intelligent and especially proud. This feature are important in our breedingprogram. With infinitive and passion we are breeding after the standard and under the FCI with the kennelname "Chihuahua von Candybell".

Our dogs are growing up with best care. We put on value on a good social coinage, so that the living together with them becomes from beginning for a true pleasure, mutual profit and to the joy. We achieve this precoinage, while our chihuahuas live integrative as members of the family. So our puppies congeners and also grow up with us. In our small but fine breeding value on excellent Geno-and Phänotypus - faithful to our principle after which beauty, health and being firmness show a well balanced unity.

We promote this natural balance in our dogs, among other things by a excellent food which we hold in particular with smallest-races for inalienable, as well as by a comprehensively straightened, certified veterinary care. Quality goes for us in every regard before quantity, which is why we reserve ourselves to deliver our chihuahuas only to select holders and breeders - just in those best hands which these miraculous dogs earn. We are glad very much about your interest. Furthermore a lot of joy on our pages.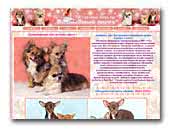 VOLSHEBNY ANGEL
Welcome to pages of my site chihuahua "VOLSHEBNY ANGEL".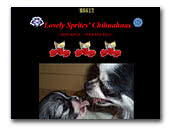 Lovely Sprites' chihuahuas
Chihuahuas smooth and long hair breeder, specialized in selection of small sizes, various colours, very typey, for show homes or pets.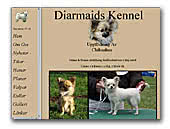 Diarmaids kennel - Chihuahua
I have a small breeder off chihuahua in Sweden.
Greetings Jessica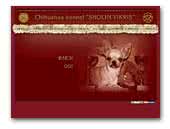 'SHOLIN VIKRIS' FCI Kennel
Sholin Vikris is a Bulgarian kennel for Chihuahua. We breed our dogs with much love and care. All of them are different. We select our chihuahua dogs from different champion bloodlines. The puppies have its own color, vision charm and character. Chihuahuas are our passion!!!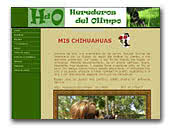 Herederos del Olimpo
Cria y selección de chihuahuas de pelo corto. Seriedad y calidad. Cachorritos para show y compañía. Pedigree de la R.S.C.E. Excelentes líneas de sangre.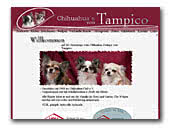 Chihuahua-Zucht-von Tampico
Wir züchten mit Herz und Verstand seit 20 Jahren diese bezaubernde Rasse. Gleich zu Beginn unseren Zucht hatten wir das Glück, zwei Rüden, zu erwerben die noch aus der englischen Zucht "Apoco Deodar" Linie stammten. Dieses führte dazu, das der Nachwuchs, eine gute Fellanlage starke Knochen und ein ausgeglichenes Wesen zeigten Auch heute noch achten wir auf diese Merkmale. Unsere Chibabys wachsen nicht nur mit den Eltern, sondern auch mit den älteren Generationen auf. Abschliesend noch ein uns wichtiger Satz "Wir leben für die Hunde und nicht von den Hunden".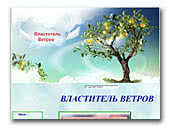 Vlastitel Vetrov
В мире насчитывается более 500 пород собак. Больших и малых. Но немного найдется таких, которые бы по популярности могли сегодня сравниться с этим крохотным, изящным, пропорционально сложенным, прекрасным четырехлапым созданием с необычным и чарующим названием чихуахуа. И это понятно и объяснимо.

Секрет волшебства чихуахуа в том, что она "самая, самая..."


« Prev 1 2 3 4 5 6 7 8 9 10 11 12 13 14 15 16 17 18 19 20 21 22 23 24 25 26 27 28 29 30 31 32 33 34 35 36 37 38 39 40 41 42 43 44 45 46 Next »