Chihuahua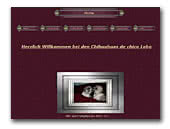 de chico Lobo Chihuahua
Wir möchten Ihnen unsere kleine Liebhaberzucht vorstellen. Wir haben ab und an bestens geprägte und sozialisierte Chihuahua Welpen an geeignete Liebhaber abzugeben.Unsere Hunde leben in und mit der Familie zusammen. Unsere Welpen wachsen liebevoll inmitten unserer Familie auf. Selbstverständlich gehören Garten und Welpenspielplatz dazu.

Wenn Sie Interesse an einem unserer Chihuahua haben, können Sie sich jederzeit mit uns in Verbindung setzen, wir beantworten gerne Ihre Fragen und freuen uns auf Ihren Besuch.

Wir sind Mitglied im  VDH / FCI.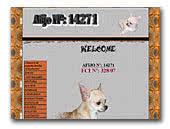 El Sueño de la Dama
Criadora familiar de chihuahuas. Amor a la raza. Videos y mucha información.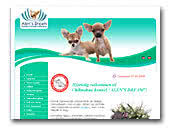 ALENS DREAM Chihuahua Kennel
Chihuahua Healthy & Wealthy. Professional Breeding. FCI-recognized Chihuahua Kennel "ALENS DREAM" locating in Denmark. Professional Breeding of Long- and Smooth coated Chihuahua.



You're Beautiful
Here we will present our small kennel were we breed both long and short coated Chihuahua's. All our dogs are DKK and FCI registered . Our dogs are part of the family and are socialized with both adults and children.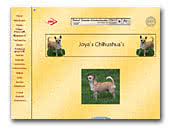 Joya's Chihuahuas
We Breed chihuahuas in Short and Long Hair our Breedanimals are healthy and Of strong character They are all PL 0/0 our animals live with us in the family and they are very good in the being. Please, my homepage looks at you there you can get to know more about us.


Master of Shadows & Excellent Mystery
Chihuahua kennel, unusual colour, merle, brindle, American breeding lines. Galeri, Litters, Puppies on sale.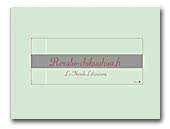 Elevage Rosalie - Chihuahua
Elevage de chihuahua PL & PC de couleurs unis, bicolore, tricolore, merle ....
Informations Générales, nouvelles ...
Bonne visite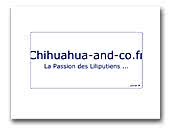 chihuahua-and-co.fr
Elevage de Chihuahua PL & PC de couleurs Des Lilipucines de toutes les couleurs. Informations, nouvelles, contacts ...


vom Hollerbaum Chihuahuas
Kurz- und Langhaar Chihuahuas aus Hessen. Wir züchten seit kanpp 20 Jahren Chihuahuas in Kurz- und Langhaar im großem Erfolg.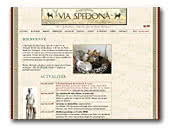 Via Spedona Chihuahuas
Via Spedona is a home-grown Chihuahua breeding endeavour near Paris, France. Our dogs are raised in an exceptional, natural environment. We strive for smart, healthy, show quality dogs with rare colours.

Excellent European and US champion bloodlines. 3-4 litters a year out of prized dams & sires. Mostly smoothcoat puppies but some longcoats available.

Our kennel stands under the theme of Ancient Rome. Come discover our website !


« Prev 1 2 3 4 5 6 7 8 9 10 11 12 13 14 15 16 17 18 19 20 21 22 23 24 25 26 27 28 29 30 31 32 33 34 35 36 37 38 39 40 41 42 43 44 45 46 Next »