Deutsche Dogge / Great Dane
Dogue allemand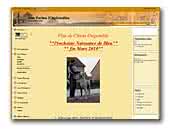 Elevage des Perles d'Aphrodite
Elevage Dogues allemands Bleus, noirs et Arlequins. Chiens issus des meilleures lignées européenne. Chiots de trés grande qualité régulièrement disponible.

Breeding Great Danes Blue, Black and Harlequin. Dogs from the best European lines. Puppies of very high quality regularly available.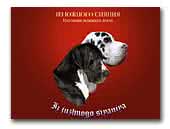 iz Juzhnogo Siyania Great Danes Kennel
We live in Crimea. It's a picturesque corner of Globe and we would like that the name of nursery From southern radiance reflected our love to our «home». Compare with other nurseries we can consider «young», but its not mean that we have just known  about breed German Mastiff.

The first acquaintance with this generous pedigree dog has occurred in 1971 and during all years mastiffs accompany us in live, as full members of family. Officially the nursery is registered in 2008. All our dogs live with us, in permanent contact with family and we are very happy of it. Having big experience of growing up dogs, we are ready to share it with other people who interested this magnificent breed. The main priority in growing up dogs is aspiration to achieve  not to receding from standard of breed, common harmony, maintenance of style, favorable mentality and longevity our dogs.

We are happy with our dogs, prouding of their success, receiving positive emotions from contacts with them. We will be glad new contacts with associates and appearance new  connoisseur and amateurs of this majestic breed - The German Dogs!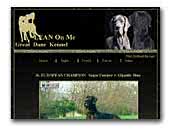 Lean On Me Great Dane Kennel
We are a small, family kennel in Hungary focusing on quality not quantity. Please meet our blue and black danes in our home or webpage. Excellent bloodlines and show results.


Deutsche Doggen vom Waldfrieden
Deutsche Doggenzucht VDH/KyDD/FCI in weiß-schwarz gefleckt, grau, schwarz und blau.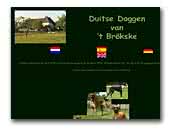 van 't Brökske
Wij fokken af en toe een nestje in geel/gestroomd en zwart/wit. Voor meer informatie bezoek onze website eens.

We breed in fawn/brindle and black/white. Look for more information our website.

Wir zuchten in gelb/gestrommt und schwarz/weis. Für mehr Information bitte besuche unseren Homepage.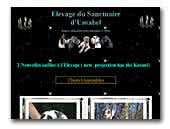 Elevage du Sanctuaire d'Umabel
dogue allemand
Notre élevage de dogue allemand est né voilà bientôt 6 ans. Nous elevons les couleurs noir/arlequin et bleu mais nous nous intéressons de très près à la couleur fauve/bringée.

Nos dogues allemands vivent en famille à la maison avec les enfants, le chat...  leur quotidien : manger,  jouer, faire de grosses siestes sur leurs canapés, faire de longues ballades,  entraînement pour la présentation aux expositions canines et bien sur de grosses papouilles sans modération. Nous attachons beaucoup d'importance aux bien être de nos dogues allemands,  c'est pour cela que nous partageons beaucoup avec eux.
En ce qui concerne l'élevage, nous sélectionnons nos  étalons et nos lices selon des critères bien précis. Ils sont issus de hautes lignées,  radiographiés (dysplasie), testés génétiquement (adn) et ont passés le TAN (test d'aptitude naturelle) avec succès.

Nous recherchons une certaine esthétique en  tête car nous les aimons longues et bien ciselées. Le corps doit être élégant et puissant juste ce qu'il faut car une bonne construction est très importante et un bon dos ainsi qu'un arrière solide permettront à nos dogues allemands  de vieillir mieux et plus longtemps car la longévité est un point essentiel à l'élevage. Sans oublier un excellent caractère.

Tous nos  chiots dogues allemands sont LOF. Dès leur plus jeune âge nous les sociabilisons, ils partent avec leur maître pucés et vaccinés mais également avec un suivi d'élevage très sérieux et nous mettons un point d'honneur à cela.

Vous découvrirez également dans notre site, nos résultats d'expositions car nous participons régulièrement à des concours de beauté organisé par la SCC ou le DCF (Doggen club de france).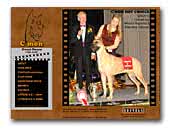 C'mon Great Danes
Great Danes since 1984. Several BIS, BISS, TOP-20 wins, Worldwinners, Scandianavian winners etc.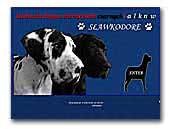 SŁAWKODORE - Deutsche dogge
SŁAWKODORE -  Breeding blacks and harlequins
Visit our web site. and our dogs and puppies for sale. Front lines and the successful exhibitions in the pedigree.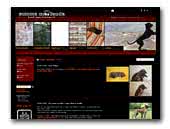 Deutsche Doggen Summa cum Laude
"Summa cum Laude" steht für Qualität in Zucht, Aufzucht und Haltung der Deutschen Doggen. Alle unsere Hunde und Welpen wachsen im Familienverband auf, da es uns ein großes Anliegen ist, wesensfeste und gut sozialisierte Doggen hervorzubringen. In meiner Funktion als Präsidentin des Österr. Doggenklubs und in der Funktion meines Mannes als Zuchtwart des Österr. doggenklubs und Tierarzt stehen wir für gesunde und rassetypische Doggen in Österreich.