Golden Retriever
Retriever Golden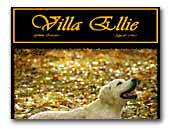 VILLA ELLIE - Golden Retriever
Golden Retriever criados en familia según el estandar de la raza.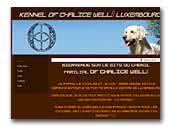 of Chalice Well
A small, FCI, family breed in Luxembourg for Golden Retrievers. Come and have a look at the web site and meet our beautiful dog and pupps.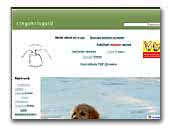 Ringokris Goldens and Borzois
Ringokris - that's Heili living in Tallinn and Kristina living in Raplamaa. The affix Ringokris was formed already in 1992, the name comes from Heili's first dog Ringo and Kristina's forename. At the moment we have Golden Retrievers and a Borzoi.

Ringokris - need oleme Tallinnas elav Heili ja Raplamaal elav Kristina. Kasvanduse Ringokris registreerisime juba 1992. a. Kasvanduse nimi on tuletatud Heili esimese koera Ringo ja Kristina nimedest. Praegusel hetkel on meil kuldsed retriiverid ja borzoi.
Borzoi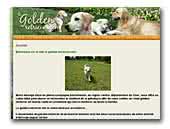 LE CROT GALOP
Elevage de Golden Retriever
Notre élevage de golden retriever se situe en région centre à 2 h de paris.l'association du golden retriever et du bouvier bernois sont les deux races principales de notre activité d'éleveur.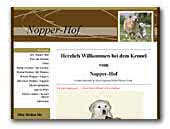 Nopper-Hof Golden Retriever
& West Highland White Terrier
Welcome to Germany Golden & Westie Kennel. Excellent dogs for show and family! You can find more Infos on my homepage.

I expect puppies with internationlly regocnized show-lines.
West Highland White Terrier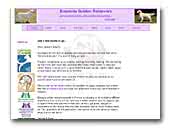 Emporda Golden Retrievers
Golden Retriever Breeder in France and Europe. Based in the Limousin Region of France.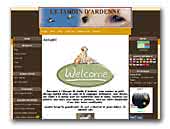 Elevage du jardin d'ardenne
Bienvenue à l'élevage du Jardin d'Ardenne, nous sommes un petit élevage familial situé au cœur de la campagne Ardennaise, nous élevons nos chiots à la maison (voir nos maternités dans le salon), habitués aux enfants, aux chats avec amour et patience, ainsi nos chiots bénéficient d'une très bonne socialisation.

ensuite lorsqu'ils grandissent, ils vont s'ébattre et jouer dehors, ils adorent cela.Nous sélectionnons nos lignées avec grand soin, pour obtenir des chiens équilibrés et "biens dans leurs têtes", tout en gardant pour objectif de respecter parfaitement le Standard du Golden, notre plaisir, vous confier un chiot équilibré, beau et en parfaite santé !
Labrador Retriever
Basset Hound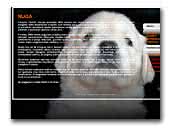 Kennel Nuga - Golden Retriever
and Bernese Mountain Dog
A small homekennel of Golden Retrievers and Bernese Mountain Dogs.

Our dogs live with us as family members, they have lot of place to play and run free. We care about dogs happiness and health a lot, all our puppies have FCI pedigree, are vaccined and growing up in friendly surroundings of dogs and people. Visit website for more information.
Bernese Mountain Dog
« Prev 1 2 3 4 5 6 7 8 9 10 11 12 13 14 15 16 17 18 19 20 Next »