Staffordshire Bull Terrier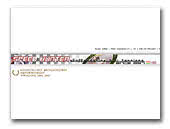 Speed Hunter kennel
Staffordshire Bull Terrier master affix!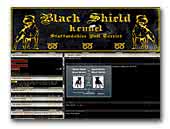 Black Shield kennel
Staffordshire Bull Terrier master affix.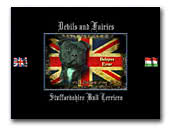 Devils and Fairies kennel
Staffordshire bull terriers from Hungary.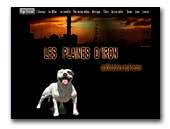 Les Plaines d'Iron
Elevage passion de staffordshire bull terrier dans le sud de la France.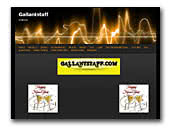 Gallantstaff.com
We are a small breeder in North Wales U.K. We own 4 red Staffordshire Bull Terrier's at the moment, Our Stud Dog Murphy, and our 3 Girls Amber, Tara and Jade.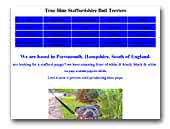 True Blue Staffords
We are hobby breeders aiming to breed blue staffords that meet K.C breed standards. We breed for Type, Temperament & Colour. We have a blue stud dog available producing strong blue pups. We also have a ltter of black & white pups available now, see our website for further details.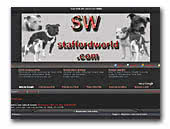 StaffordWorld Forum
A fun, friendly and informative forum for owners of all types of Staffordshire Bull Terriers! Come and share your pictures, stories and advice with all the other Stafford owners out there! Free and easy to join!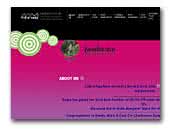 Janikastco Staffordshire Bull Terriers
We are KC Accredited Breeders & Exhibitors of Staffordshire Bull Terriers, based in the West Midlands. Between us we have been owned and loved by Staffordshire Bull terriers for over 20 years.

If you are looking for a Well Bred, Fully Health Tested Staffordshire Bull Terrier Pup and we can not help, we can always put you in touch with someone that can. Through Showing we have made a number of great friends that are always willing to help and give advice.
Staffordshire Bull Terrier