West Highland White Terrier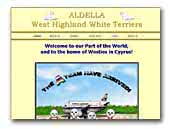 ALDELLA West Highland White Terriers
Westies in Cyprus.




Castaway
Hodowla CASTAWAY - Wilczarz irlandzki & Owczarek południoworosyjski - Jużak  & West Highland White Terrier. Prezentacja naszych psów, galerie zdjęć, zapowiedzi miotów, oraz aktualne szczenięta w hodowli. Zapraszamy  do odwiedzenia naszej strony internetowej.
South Russian Ovtcharka
Irish Wolfhound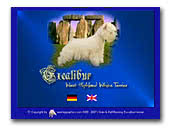 EXCALIBUR KENNEL
We loved their temperament, cheerful and cute looks, smart, intelligent eyes where you can see the challenge, as if the westies are always wondering: who is the boss here? You or me? You can never be bored if you have westies around.. Our lives are full of play and joy.

They can always give us and surprise us with something new that we have never experienced before. Westies are full of surprise. Their bodies are restless; their souls wonderful, their hearts are brave and their minds- unreachable! To me they look like cute little devils who know how far they can go, but just to make sure who they are always tease you. And they are always so lovely and you can never get mad at them.

Westies have given me many wonderful moments, not just me, but anyone who has a westie. And they will share those moments with all of you who decide to have a westie and make him or her a part of your family. I would also like to thank everyone who decided to have one of my Westies, to take care of them and love them just like I did when they were still little.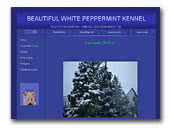 Beautiful white peppermint kennel
Westie kennel from Hungary.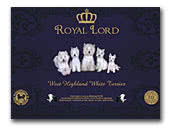 Royal Lord FCI
West Highland White Terrier
Kennel of West Highland White Terrier - Royal Lord F.C.I..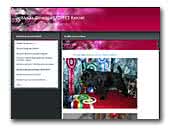 Kennel DINASTIJA LKD-FCI
Breeding Griffons Bruxellois,Griffons Belge, Yorkshire Terriers, Sealyham Terriers, West Highland White Terriers and Zwergschnauzer Black&White.
Brussels Griffon
Belgian Griffon
Yorkshire Terrier
Miniature Schnauzer
Sealyham Terrier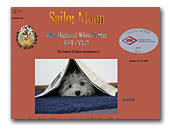 Sailor Moon West Highland White Terrier
West Highland White Terrier Kennel in Germany.