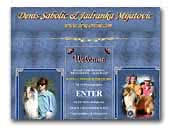 DENNISAY'S - GEANTLES Collies
Dedicated to this magnificient breed - Rough Collies since 1980. Top Collie Breeders fot 17 years - 8 years in a row.

We have breed and/or owned over 40 Champions in all three colours. The only Collie Kennels in Croatia who owned all breeds Best in Show Winner, not just one; but four different Collies ...
Collie Rough