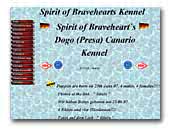 Spirit of Braveheart's Dogo Canario Kennel
Wir haben typvolle Dogo Canario Welpen abzugeben. Farbe: fawn und rot. Alle haben eine gute schwarze Maske. Die Eltern sind Importe - spanische Linien mit vielen Champions in der Ahnentafel. Die Welpen haben VDH/FCI Papiere.

We have puppies for sale - color fawn and red. Parents are import dogs - spanish lines with a lot of champions in their pedigree. Puppies have FCI papers!!!
Dogo Canario