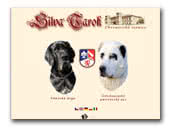 Silva Tarok Kennel
Our fist Great Dane was a dog that was called Hugo. We acquired him in 1994 from a breeding station UTTIS.

Hugo was our first harlequin. It was a giant with a warm heart, a friend and above all a great personality. He won our hearts and enraptured us to an extent that it was clear, that we wont settle just for one Great Dane.

Our kennel began to expand to the extent that in 1995 we have acquired a temperament lady-friend for Hugo. A Great Dane Jagu Uttis. They really clicked at first sight and became an inseparable pair. From that time on, a wonderful life with our animal friends has started.
Great Dane