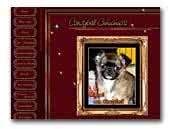 von Candybell - Chihuahua
Welcome to all Chihuahua Friends!
Chihuahuas belong to one of the wonderfull Dog-Personalities. They are happy, brave, intelligent and especially proud. This feature are important in our breedingprogram. With infinitive and passion we are breeding after the standard and under the FCI with the kennelname "Chihuahua von Candybell".

Our dogs are growing up with best care. We put on value on a good social coinage, so that the living together with them becomes from beginning for a true pleasure, mutual profit and to the joy. We achieve this precoinage, while our chihuahuas live integrative as members of the family. So our puppies congeners and also grow up with us. In our small but fine breeding value on excellent Geno-and Phänotypus - faithful to our principle after which beauty, health and being firmness show a well balanced unity.

We promote this natural balance in our dogs, among other things by a excellent food which we hold in particular with smallest-races for inalienable, as well as by a comprehensively straightened, certified veterinary care. Quality goes for us in every regard before quantity, which is why we reserve ourselves to deliver our chihuahuas only to select holders and breeders - just in those best hands which these miraculous dogs earn. We are glad very much about your interest. Furthermore a lot of joy on our pages.
Chihuahua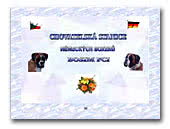 BOSIM FCI Boxers
The Boxer breeding kennel BOSIM FCI is dedicated to the breeding and training of the german boxer. Our goal is to raise healthy puppies with superb temperaments. In 2003 we whelped our A litter, in 2005 our B litter and our C litter was whelped in 2007.

Our main goal is quality training of our dogs. Several times a year we compete in qualifying trials for boxers. We have competed at the national and international levels as well as represented the Czech republic at the world championships for boxers in IPO (ATIBOX WM).
German Boxer