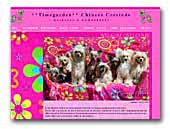 Timegarden Chinese Crested
Hairless and Powderpuff
Chinese Cresteds are amazing dogs! I love, show and breed my champion Chinese Crested with all my heart. Once or twice a year I have a litter from perfectly sound, correct, healthy and tested parents. All my dogs live in my house, sit on the couch and sleep in my bed. All information about grooming can be found on my website aswell.
Chinese Crested Dog