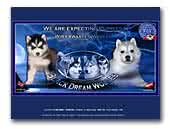 Black Dream Wolves
We are living in Lower Austria, in a small village called Chorherrn. We really appreciate the nature and the opportunity to train our dogs in ruining free.

We also spend a lot of time with training the dogs, playing with them or we just snuggle. It also depends on the intended purpose 'cause not every dog is trained for show or sledge.

We are living in an old farmer house together with our pack. We are living with our dogs and don't leave them out into the kennel all the time. Our house if not perfectly clean all the time - for sure. At time where it is raining a lot you can clean all day long and it will be still dirty.

The dogs have the possibility to be in almost every room of the house and we have learned to live with that. If you are looking for a kennel where everything is in perfect order and cleaned up all the time and the dogs are just left outside all the time - you should not visit us.

The welcome not of our website is our motto and you don't agree with us that the dog is more important than a cleaned up house and you think a dog should live just outside please choose another kennel 'cause we search for puppy parents that care about the dog and not about a little bit of dirt form time to time!
Siberian Husky