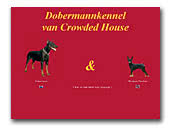 van Crowded House Dobermanns
Since 1990 we dedicated our lives to our Dobermanns. Our Dobermanns are devoted, friendly, passionate and stylish with a considerable dose of self-confidence and a stable character. They are family dogs to the backbone.

With our combinations we found the perfect balance between beauty and character. Every puppy is raised in a social and familial environment and grow up in the house of course. For information or a visit without further engagement you can always contact us.
Dobermann
Miniature Pinscher