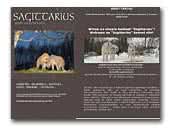 SAGITTARIUS - Wilczarz Irlandzki
Oldest active kennel of Irish Wolfshounds in Poland

Description: I first saw a wolfhound in 1974 and I have been fascinated by the breed since then. All my expectations were met when I brought home my first wolfhound - Arabeska Santana Z Hubertowego Dworu (from Hubert's Manor).

Her parents originated from Sweden and she came from the first litter of wolfhounds born in Poland in modern times. She became mother of my first litter and lived for over 11 years. Since then I have had 54 litters of wolfhounds. In order to give my breeding a deeper meaning I have been always looking for valuable, new bloodlines and I have imported 15 wolfhounds over the years - from UK, Czech Republic, Denmark, Belgium, France, USA and Ireland. Hounds from my breeding won numerous champion and international champion titles as well as BIS titles. Some of my dogs have participated in therapy in schools and hospitals. In 2006 I have created the first Polish internet forum for wolfhound owners and breeders. I am always willing to give advice in the matters concerning the breed and I have been updating my database of all IW litters born in Poland since 1980.
Irish Wolfhound