Dog Breeders > Last Added

FOREVER DREM FCI
Breeding pyrenees dogs, puppies, dogs show, information,cover male,juniorhandling.

Zucht pyrenaen rassen, welpen, hundeausstellungen, info, deckenrüden, wettbewerb.
Pyrenean Mastiff
Pyrenean Mountain Dog
Pyrenean Sheepdog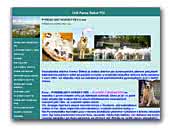 ŠTĚKOT Pyrenees Breeding Farma
First Pyrenees breeding in CZ (Bohemia) mastin de los pirineos, chien de montagne des pyrenees, berger des pyrenees normale, berger des pyrenees face rase, puppies, cover male, health breeding hd 0/0, information,dogs show, juniorhandling, works dogs.
Pyrenean Mastiff
Pyrenean Mountain Dog
Long-haired Pyrenean Sheepdog
Pyrenean Sheepdog - smooth faced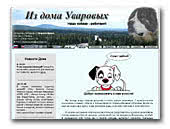 From Uvarov's house
Kennel of the Central Asian Shepherd
In our kennel we breed one of the most ancient breeds Central Asian Shepherd named also a Turkmen wolfhound or Alabai. In breeding of these dogs we try to keep pedigree features of wolfhounds and their working qualities, first of all.

We believe the main purpose of this breed is safety and protection and we mean this when we talk about working qualities. Dogs unable to resist harsh attacks from two footed or four footed enemy are not considered as a true wolf hound and are not bred in our kennel regardless of titles that they possess. However we believe that exhibit is the necessary arrangement especially for male dogs. Only the dog whose standards are close to the ideal of the breed will be a good worker. The standart of a Turkmen wolfhound describes a functional dog and according to a standart precisely defined by experts at exhibitions.

The correctness of our chosen course in breeding is confirmed by high performance qualities of dogs from our kennel (From Uvarov's House) as well as awards our dogs won at prestigious exhibitions. The puppies that are born in our house are socialized with the adult dogs, have contact with children and obtain all necessary inoculations. This is a guarantee of outstanding health and balanced psyche.
Central Asia Shepherd Dog
.

.