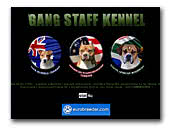 Gang Staff Kennel
Welcome to Gang Staff Kennel !

I live on a farm in nothern Poland with my son, where we raise our dogs with true love and passion. We are first Polish kennel with 5 American Champions, Junior World Winner '98 ... till today we breed 47 Champions. In our breeding program we use only the best dogs - our aim is to get high (show) quality, healthy dogs with balanced character and great temperament.

Our dogs is our passion and lifestyle. To know more - visit our WebPage ! :)
American Staffordshire Terrier
Jack Russell Terrier
Boston Terrier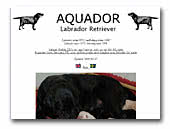 Aquador Labrador Retriever
With Labradors since 1971, breeding since 1998.

We are members of Swedish Labrador Retriever Club (LRK) and registered with the Swedish Kennel Club (SKK), which in turn is associated to FCI, and follow their rules for breeding. We only breed dogs that are free for generations on hips (A or B), elbows, and eyes; current eye certificate must not be older than a year from mating. All breeding stock is shown with at least excellent on conformation and many have some working test done. We aim for mentally sound dogs, kind cuddly dogs that love to work with you and also have excellent conformation.

Litters are raised indoors making the pups used to things in a normal home such as vacuum cleaner, washing machines, cats, and children among other things. At delivery at 8 weeks they are fully registered with SKK, wormed several times, micro chipped, examined by vet and had their first vaccinations.
Labrador Retriever