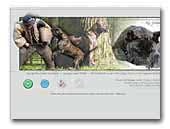 Rey Gladiador - Perro de Presa Canario
My history with Presa Canario started arround 2001 and in 2004 first Presa arrived to my home. Till now my dogs managed to show their working and show quality.

Charakter: Courage Tests IV level, Courage Tests III level, Courage Tests II level, Courage Tests I level, Passed Psychic Tests,

First Presa Canario allowed to pass Courage Tests of level IV and first Presa Canario passing all levelss of Courage Tests
*Courage Tests were held by Dogo canario Club CZ
*Psychic Test made by Polish Kennel Club

Show: World Winner Junior, Champion of Champions, Champion of Poland, Poland Winner, Slovakia Winner, Lithuania Winner, Vilnus Cup Winner, 2 x Junior Winner on internetional shows in SPAIN, Junior Club Winner, Junior Poland Winner, Junior Champion of Poland, vice Junior Europe Winner, Nominated for CRUFTS, Best Puppy in Poland, point missing to Champion of Slovakia, point missing to Champion of Lithuania, Multiple Best of Breed, Multiple Best of Sex, Multiple CAC, Multiple Best Junior in the Breed and Junior Winner.

Presa Canario is may passion and my life. This is not a dog that anyone can define and sweep over. This is unique dog with unbelievable charm. Those that once felt in love with this breed will always stay faithful to it.

Lerning what Presa is, is a plesure. Through my web site I'm trying to share my knowledge with other fans of the breed.

I stay in contact with breeders from diffrent contries and my kennel is member of Club Espanol del Dogo Canario to have opportunity to learn also from others experiences.
Canary Islands Mastiff