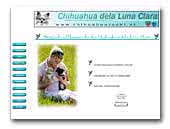 dela Luna Clara - Chihuahuas FCI/ÖKV
Hearty welcome dear visitor,

I´m member of the Austrian Unsion of Cynologists breeding duly to the OEKV (Austrian Union of Cynologists) rules, race standard no. 218. Our Chihuahuas live with us in Hellmonsödt, near Linz. I am used to dogs since my childhood and have gained experience and know-how in respect to dogs´ education, health precaution and breeding.

For completing luck and love between me and my partner Gerhard, who always energetically supports me, there was still missing something for perfection. After a long time of searching we have finally found for us the world´s outstanding breed – Chihuahua.

I was intensively engaged in learning more about Chis´ and decided to breed these little lions. Of course I asked many collegues for advices. Not only experience increased, by the way some friedships began to grow.

It is my target to preserve the Chihuahua´s nature without stupid and unresponsable breeding trials. Just conviction, patience and much love is the only way to achieve my target. In participating training-colleges I keep myself updated.
Keeping diaries about development from the very beginning of puppies´ lifes: date of covering, all verterinary´s examinations (ultrasonic, size, weight, ...), hundreds of pictures are taken ...

The future owners can go through their new family member´ s past. Our dwarfs are used to other dog races in respect to size and behaviour. Our Great Dane for example plays her role as "nurse for socialisation". My puppies are well prepared for their lifes; they learn to walk with lead, to empty themselves as well outdoor as in case of need into the toilet box, to be co-pilot when driving the car, participating several trips according to the age. They are also used to noises of vac-cleaner, TV, washing-machine and so on (It may happen that puppy uses my wiper as taxi.)

All our dogs have gone through all necessary health examinations in accordance to international standard.

If you have decided for one of our dogs of "dela luna clara" do not hesitate to contact us. A visitation of our puppies is important for me because I want to get to know the future "parents". On the other hand you can see our dogs an how is breeding situation. You can do a fixed reservation by pre-paying half the price. Neither I sell "occasion dogs" nor I have inexplicably phantastic prices.
Chihuahua