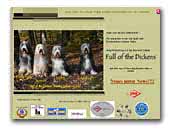 Full of the Dickens Bearded Collies
We have been breeding this terrific breed since 12 years. Within that time, we have had 10 litters, all of which we are very proud. We strive to breed healthy Bearded Collies with wonderful dispositions which are a joy to live with.

If you have any questions regarding our dogs and puppy-planning, then please don't hesitate to contact us. We are happy to hear from you.
Bearded Collie