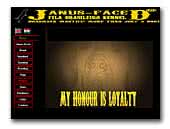 Canil Janus-faced
Janus-faced: keeping up the dual personality of the true Fila brasileiro

Why Janus-faced? Well, the Fila brasileiro is a very, very special breed, an extraordinary dog, where duality, being double-faced is the standard. Love and devotion for the family, fierce dislike and distrust for the rest of the world. Based on personality and temperament, it has no peers at all in the canine family. Physically, the Fila brasileiro is a magnificent and regal animal, with such graceful, fluid and agile movements which may surprise one considering how large the breed is.

Unfortunately, the brave and long suffering Fila brasileiro is today in the very middle of his last battle. By this process he is perhaps more attacked than any other Fila brasileiro generation before, who had to fight against bulls and jaguars. Paradoxically one has on the other side the fact that the Kennel Clubs in various countries are registering hundreds of Fila brasileiro pups per year without being interested whether these are true Fila brasileiros or bastards. One must also recognize that there has also been a tendency of softening the extremely sharp temperament of the ancient Fila brasileiros.

But, in spite of all the difficulties, we of Janus-faced brought and still are intending to bring specimens from these ancient strains, today nearly extinct, to our kennel. The result of their breeding has already been proved worthwhile, first in terms of their rusticity and homogeneity in type, and second, in terms of their firmness in temperament, courage and "ojeriza" to strangers. These are, indeed, the unmistakeable features of the true Fila brasileiro.

We wish that just those people, who want to preserve him as he was introduced to all of us in his severe origin which had formed him, would breed the Fila brasileiro. We do not want to see the Fila brasileiro in the hands of people who fancy the modern superficial beauty shows. They neglect and want to push away the traditional capacities of the Fila brasileiro.

One must know: the Fila brasileiro is not a dog adequate for everybody! It is very important to have a close contact between the dog and the owner especially when the dog is young and his character is being formed. Everybody should know, too, that the Fila brasileiro prefers to be handled by firm hands, a handler with a strong alpha character. The purchasing of a Fila brasileiro is a great responsibility!

To be owned by a Fila brasileiro is a great pleasure, and while I think that the Fila brasileiro is not a breed for everyone, I do think that for those special people, the "fileiros", there is a very special relationship waiting to be had with one of these extraordinary dogs.

Come and be one of us! Enjoy having a magnificent friend: an authentic Fila brasileiro!
Fila Brasileiro