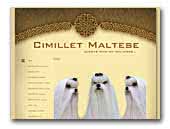 CIMILLET Maltese
Exclusive and selected top quality Maltese

CIMILLET Maltese is located half an hour from Madrid. We are dedicated to breeding top quality Maltese for show and for pet.

Our malteses are from one of the top quality Maltese Kennel in South Korea that have an exclusive and carefully selected bloodline.

Our purpose is directed to breed dogs of top quality for show, never leaving behind the essential criteria of beauty for those who wish to have these so adorable friends as loyal companions to their daily lives.

We are dedicated to show our most ideal dogs to thereby contribute in some way in improving race while we take care of the little details at the time of breeding to make them ideal partners with a very loving and open nature itself of the race.
Maltese