Dog Breeders > Belgium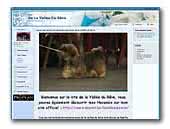 Les bichons Havanais de la Vallée du Rêve
Tous les chiots bichons Havanais issus de la Vallée du Rêve sont élevés en famille, sociabilisés avec tendresse et savoir-faire dans le respect de l'animal Les bichons ont un caractère doux, affectueux et sont des compagnons idéaux avec les enfants.

Les chiots de la Vallée du Rêve sont élevés dans le respect des phases de développement des chiots. Depuis 1993 je n'ai que des compliments sur mon travail d'éleveur et je remercie toutes les personnes qui m'ont fait confiance pendant toutes ses années.

Conseils et suivi
Havanese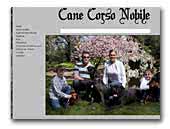 Cane Corso Nobile
Cane Corso & Dwerg Teckel.
Cane Corso Italiano
Dachshund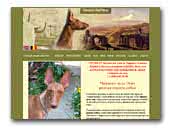 cirneco-volgograd.ru
We are the small kennel of the wonderful breed Cirneco dell Etna. Our dogs are very value bloodlines, beautiful original type and nice character.

All our puppies grow up with love. And for each one we select the best owners :-)Possible shipment to other countries.

Welcome to our site, meet our dogs, fall in love with the breed :-)
Cirneco dell'Etna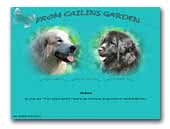 Pyreneese Berghonden from Cailins Garden
Welcome to the Kennel from Pyreneese Berghonden from Cailins Garden. We are a small kennel who breeds Pyreneese Berghonden in home enviroment. puppies avaible.

Bienvenue chez le chenil du Cailins Garden. Elevage familial pour la beauté et la noblesse des chiens de montagne des pyrénées.

Willkommen im Kennel from Cailins Garden. Wir sind eine kleine Familienzuchtstätte und unser Bestreben ist es familienfreundliche und gesunde Pyrenäenberghunde zu züchten.
Pyrenean Mountain Dog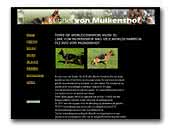 von Muikenshof German Shepherds
Home of worldchampion WUSV-Link von Muikenshof and Vice worldchampion FCI Jari von Muikenshof 1991.
German Shepherd Dog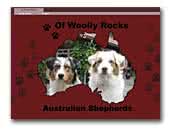 Of Woolly Rocks
We live in Belgian Limburg, a stone's throw away from the Dutch border. In a rural location on the outskirts of the village at a farm with several animals, including dogs, cats and horses. Our backyard is the Maasvallei, a beautiful hiking area with country roads and the winding Maas, where we walk the dogs every day.

For several years, we are head over heels for the Aussies, with their friendly and open character, their obedience and beautiful color variations. The dogs are truly part of our family, they are both social to other people and animals. We find this aspect of the Aussie to be the most important, where good looks are a great benefit!

We would occasionally breed a litter, the puppies will be raised indoors and there will be a strong emphasis on proper socialization. Also, carefully looking at the character of the sire. Obviously the show results matter, but an open and social character is the most important!
Australian Shepherd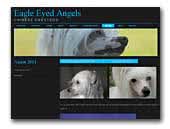 Eagle Eyed Angels - Chinese Cresteds
We are a small family homed kennel with just a few dogs. We only breed once a year or less. Our dogs live in our home, are health tested and have very good pedigree's.
Chinese Crested Dog

Elbe-Urstromtal Old Englisch Sheepdogs
In 1971 we started with the worldwide leading kennel of Old English Sheepdogs. Our Dogs are know for their gentle and Real OES Karakter. On top the have proven to be beautiful as well. We have bred 130 Champions worldwide.

Our typ is how an OES should looke like. See the dogs and puppies at our homepage and you will see the difference. We are not breeding just an OES, we are breeding special dogs!
Old English Sheepdog
Bearded Collie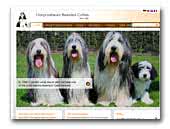 Firstprizebears Bearded Collies
Firstprizebears Bearded Collies are established in 1988. Now 24 year further we are one of the leading kennels worldwide.Our goal is to breed a beautiful dog with the most wonderful temperament a Bearded Collie should have. We do not want a hyper active Beardie nor a barking one. All information you can finde on our homepage.
Bearded Collie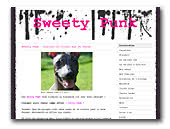 Sweety Punk - peruvian hairless dog kennel
Sweety Punk - peruvian hairless dog kennel - medium and large size.

Sweety Punk is a mother-daughter association. So really a family kennel ! Our dogs live with us in our home and they even spent our sofas, our beds, ... to our pleasure!

Our goal: to give birth to beautiful babies with pedigree fci well in the standard, with good temperament and socialized to join their new family in the best conditions, babies in good health followed closely by a team veterinarian.

We have selected our breeding dogs carefully (origins, construction, type, character)...

we speak english, nous parlons français, Hablamos español.
Peruvian Hairless Dog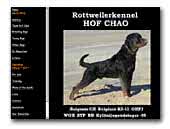 Hof Chao rottweilers
Rottweilerkennel Hof Chao is located in Roeselare Belgium. We breed with very strictly selected dogs, maximum 1-2 litters/year. Our goal is to breed healty and stabil dogs, suitable for shows and working.

Our K1-litter is born 14/10/2011
8 males & 3 females
sire: VPG3 Körung ZTP BH AD ODIN VON BICKESHEIM II (HD: +/- ED: Free)
dame: BH Multi-V1 CAC CACIB HEXE HOF CHAO (HD: Free ED: Free).

Our K2-litter is born 19/10/2011
4 females & 3 males
sire: Belgium CH GHP1 WGH ZTP BH GROMM HOF CHAO (HD: Free ED: Free)
dame: BH WANYA VON BICKESHEIM (HD: Free ED: Free)

We are the proud breeders and owners of stud male Belgium CH GHP1 WGH ZTP BH GROMM HOF CHAO (HD: Free ED: Free).

More info of us and of Hof Chao rottweilers can be found on our website!
Rottweiler
« Previous 1 2 3 4 5 6 7 8 9 10 11 12 13 Next »