Dog Breeders > Belgium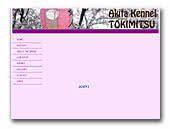 TOKIMITSU Akita kennel
Based near to Brussels, the beautiful capital of Europe, we are breeding the wonderful Akita's. We try to improve the high quality with love and passion. Our dogs are well socialised and of high quality. Import from France and soon arrival of a new japanese import bloodline. Puppies from time to time. Weekly update of the site.
Akita Inu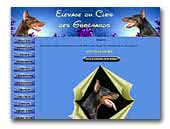 Elevage du Clos des Grognards - Dobermann
Breeding of Doberman pinschers, breeding du clos des grognards (Belgium and France). Stockbreeder of Doberman pinschers since more than 25 years. All information on our champions, puppies, broods, females, males. Find their photographs and pedigree. History of the race Doberman pinscher.
Dobermann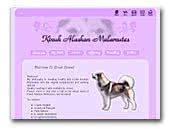 Kinuk's Alaskan Malamutes
We are breeding healthy and sound Alaskan Malamutes with the original temperament and working attitude. Quality handling is also available for shows.
Alaskan Malamute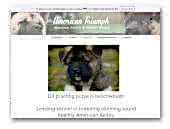 American Triumph Akita Kennel
Top showdog akita kennel, Pups availlable.
American Akita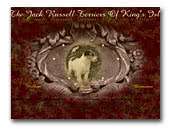 Of King's Isle Jack Russell Terriers
Of King's Isle est un petit elevage des Jack Russell Terriers pur race au bord de la majestueuse Bruges.

Of King's Isle a comme bût d' élever des Jack Russell Terriers qui satisfont non seulement en ce qui concerne la beauté à toutes exigences, mais aussi en ce qui concerne le caractère et l'éducation. Aussi bien Count Cortez, Duchesse Brontë que Gwynn's Lady Of King's Isle ont été éduqués dans un environnement social et polyvalent. Les gens, les chiens, les chevaux, les enfants, ... font pour eux partie de leur vie quotidienne. Leur vie se produit aussi bien à l'intérieur que dehors. Beaucoup d' attention est consacrée à la socialisation avec tous aspects de la vie quotidienne.

De temps en temp on a des chiots superbes!
Count Cortez est disponible pour des saillies des femelles incrites et avec pedigree.

Pour plus d'information, n'hésitez pas a jeter un coup d'oeil sur site.
Jack Russell Terrier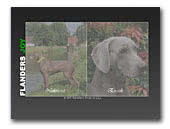 Flanders Joy Weimaraners
Home of the versatile weimaraner. Selected for beauty, hunting, character and health ...
Weimaraner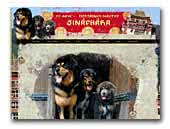 Tibetaanse Mastiff Jinâdhâra kennel
Hallo , onze 3 Tibetaanse Mastiffs wonen samen met ons in huis en lopen vrij rond in de tuin . Wij zijn een hobby-kennel met veel liefde voor dit prachtige ras ! Wij fokken enkel met de beste combinaties ,op gezondheid , karakter en schoonheid . ( shows )volgens ST. Hubertus en het FCI .

Op het eind van dit jaar plannen wij ons tweede nestje , kunnen jullie volgen op mijn site , zijn er nog meer vragen , staan wij u graag te woord .De pups worden in de keuken geboren en opgevoed , met kinderen en andere huisdieren .

krijgen een Europees paspoort , stamboom,eerste prikje ,meerdere keren ontwormd , een mooi puppypakket met speeltjes ,riem en halsband , en Pro-plan voeding voor de eerste week. De ouders zijn HD, PRA en DNA getest in de Universitaire dierenkliniek Gent ,
de puppy-lijst is nog open ,
gr. Claire . 
Tibetan Mastiff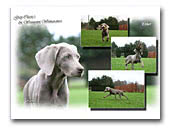 Grey Classics & Weimpoint Weimaraners
We're breeding our reputation ...
Weimaraner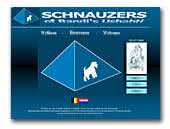 of Randi's Ushabti
White Miniature Schnauzers
Welcome to our website "of Randi's Ushabti". Please enjoy looking at our Schnauzers! Inside you will find a great deal of information about White Miniature Schnauzers and over all our dogs. We hope this will give you a good view into our Schnauzerworld.
Miniature Schnauzer


Dobermannkennel Van Royaert
Presentation of Dobermannkennel Van Royaert. Dogs in kennel: Roxanne Dei Nobili Nati, Pando Dei Nobili Nati, Csilla Van Royaert, Xora van Hof ter Eeckhout. Puppy info, links, history, standard, pictures ...
Dobermann
« Previous 1 2 3 4 5 6 7 8 9 10 11 12 13 Next »