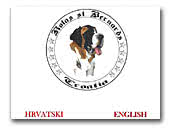 Roly st. Bernard kennel
Welcome to the web site of st. Bernards kennel - Roly st. Bernards. We hope that you will find all what you want to know about st. Bernards, and if you have any extra questions about buying and breeding st. Bernards, please contact us by phone or mail. We are located in Prigorje Brdovecko (25km from Zagreb - Croatia).

We started breeding Bernards 4 years ago when we got our first dog Bella. Today we have 3 girls (Bella, Minnie and Mona) and 1 male (Mork King from Miki). Because our great show results we are always trying to improve our dogs standard and try to promote this beautiful breed as much as possible.
Saint Bernard