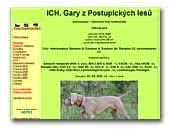 Gary z Postupickych lesu ICH, CH, JCH
ICH. Gary z Postupickych lesu
Titles: Interchampion, Champion of Germany, Champion of Austria, Champion of Slovak Republic, Champion of Czech Republic, Juniorchampion of Czech Republic.

Show results: Champion of Champions 2004 - fifth place, BIG 3, BIG 4, BOB - 7x, CACIB - 12x, Res.CACIB - 5x, National winner, CAC CZ - 10x, CAC SK - 3x, CAC A - 3x, CAC D - 5x, CAC VDH - 5x, CAJC - 2x, Prag Winner, Brno Winner, Landessieger Bayern - 2x, Landessieger Thüringen.

Hunting tests: test of natural dispositions, autumn test, water work, forest work - all in first prize (excellent) born 18.02.2003.

HD: A; height at withers 66 cm; used in hunting practice.
Weimaraner