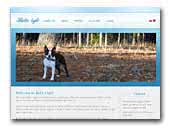 Baltic Light
The kennel Baltic Light is located in north-eastern part of Estonia and registered No 8/2011. In the kennel lives Boston Terrier named South Dakota Vigor Gemini.

At the age of two years and four months South Dakota became the champion of the Baltic States, Estonia, Latvia, Lithuania, Finland, Russia, Russian Federation Canine, Belarus. Titles of young champions of the Baltic States, Estonia, Lithuania and Latvia were also obtained, as well as LVJW10, LVW10, LVW11, LTW11.

Besides the official titles, the following ones are obtained as well: CACIB x 7, RCACIB x 1, CAC x 12, BOB x 9, JBOB x 6, VSPJ x 7, JCAC x 5, CW x 1, BOS x 2, BIG - 3, 4, BIS – 5, VSP papi x 1, VSP bebi x 1, PP x 2, GOLD MEDAL x 2.
Boston Terrier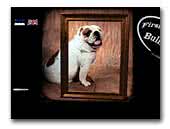 First Favourite Bulldogs
We are a small home kennel where the dogs are full and equal members of the family.

We have show quality English Bulldogs with excellent bloodlines. Our aim is to breed Bulldogs of good health, temperament and as close to the description of the standard as possible. Our dogs are our passion!
English Bulldog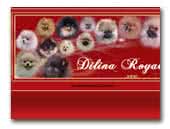 Dilina Royal
We are very happy to present our Kennel. We have been successfully showing and breeding our Pomeranians and German Miniature Spitz since 1992.

We are incharge to our dogs. Only breed from healthy dogs, regularly bringing a new bloods in breeding programm (excellent pedegree and genealogy).

All our dogs live with us at loving home and having excellent characters, health, well socialized and friendly. Our puppys are always vetchecked, vaccinated and having a microchip before leaving our home. They come to a new home with a lifetime support.

Please feel free to contact us at any time.
German Miniature Spitz / Pomeranian