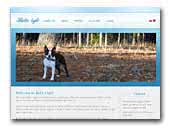 Baltic Light
The kennel Baltic Light is located in north-eastern part of Estonia and registered No 8/2011. In the kennel lives Boston Terrier named South Dakota Vigor Gemini.

At the age of two years and four months South Dakota became the champion of the Baltic States, Estonia, Latvia, Lithuania, Finland, Russia, Russian Federation Canine, Belarus. Titles of young champions of the Baltic States, Estonia, Lithuania and Latvia were also obtained, as well as LVJW10, LVW10, LVW11, LTW11.

Besides the official titles, the following ones are obtained as well: CACIB x 7, RCACIB x 1, CAC x 12, BOB x 9, JBOB x 6, VSPJ x 7, JCAC x 5, CW x 1, BOS x 2, BIG - 3, 4, BIS – 5, VSP papi x 1, VSP bebi x 1, PP x 2, GOLD MEDAL x 2.
Boston Terrier