Dog Breeders > Finland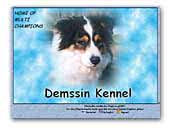 Demssin's Border Collies
We are breeding typical healthy Border Collies with lovely character for every kind of hobby, work and shows. We are located in Southern Finland. More details you can find on our web-site.
Border Collie

Soulman's Pyrenean Mountain Dogs
Pyrenean Mountain Dogs since 1993. Our first litter born 2008, after 15 years "Pyr-hobby" and studing of breed. Now I have found the type of the pyrs which I love and want continue these fantastic lines. We want keep original type in our Pyrs and we won't forget the healthy either.

All dogs who we use to breeding are excellent qualities, good caracter, hips/elbows x-rays, patella and OCD-free dogs. Litters will be plan very carefully and we don't make many litters in year.
Welcome to meet my beautiful Pyrs.
Pyrenean Mountain Dog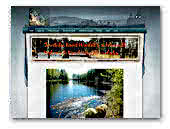 Winslett´s
American Akitas & Terrier Brasileiros
Bichon's and akitas with love for about ten years now. We are a small homekennel located in the middle of Finland. We have bred some Fin & Int. Ch and lots of "sofa-champions" to be loved. Litters occasionally. Enquieries are welcome!
American Akita
Bichon Havanais
Brazilian Terrier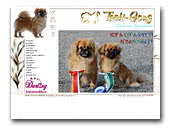 Tashi-Gong Tibetan Spaniels
Tashi-Gong Tibetan Spaniels come from Finland!
All our dogs are beloved familymembers from the beginning of their lifes until the very end. Carefully planned litters born in middle of normal familylife, being used handling from the very young age. None of our puppies will be sold to kennel conditions or just showing purposes.

Finnish Kennelclub has honoured me, as a breeder of Tashi-Gong Tibetan Spaniels, for Vuolasvirta Breeder Award - award for top quality breeding.

I do export, but only on recommondations.
Tibetan Spaniel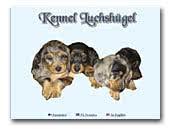 Kennel Luchshügel
Longhaired dachshunds minuature and standard, short haired German pointer, breeding in small scale.
Dachshund
German Shorthaired Pointer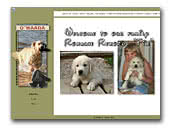 O'haana
A small homekennel breeding english cockerspaniels and golden retrievers.
Golden Retriever
English Cocker Spaniel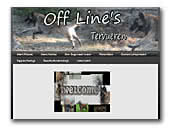 Off Line's - Tervuren
Tervueren breeding Off line's =)
Belgian Shepherd Dog - Tervueren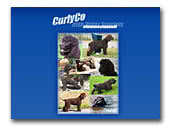 Kennel CurlyCo Irish Water Spaniel
Show & Working Irish Water Spaniel.
Irish Water Spaniel