Dog Breeders > France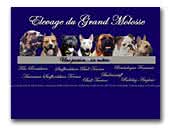 Elevage du Grand Molosse
Elevage du grand molosse dans les vosges en lorraine propose chiots fila brasileiro, bull terrier, amstaff, staffordshire bull terrier, bulldog anglais et bouledogue français.

Touts nos chiots sont vendus pucés, vacinés, inscrit au LOF et accompagné d'un certificat véto.
American Staffordshire Terrier
Staffordshire Bull Terrier
Bull Terrier
French Bulldog
English Bulldog
Fila Brasileiro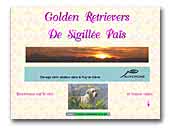 de Sigillée Païs Golden Retrievers
Elevage amateur et familial en Auvergne, de chiots de race Golden Retriever LOF. Parents  avec références Beauté/Travail, contrôlés Hanches/Yeux. Membre du Retriever Club de France et signataire du Protocole d'Elevage.

Nos chiots naissent à la maison et jouissent d'une socialisation soignée. Chiots remis à 8 semaines, pucés, vaccinés, vermifugés, pré-éduqués, avec guide d'élevage et d'éducation. . Facilités de paiement. Accès rapide par sortie A 89.
Golden Retriever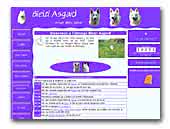 Bleizi Asgard
Elevage de Berger Blanc Suisse
Elevage familial de Berger Blanc Suisse en Bretagne. Venez découvrir nos chiens qui vivent quotidiennemet à nos côtés. Nous faisons des efforts de sélection rigoureuse au niveau morphologique et du caractère. Chez nous le respect du chien passe avant tout.
White Swiss Shepherd Dog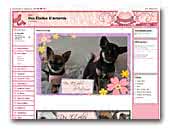 DES ETOILES D'ARTEMIS Chihuahuas
Breeder and Exibitor of chihuahua short haired.

Eleveur de Chihuahuas poil court, reproducteurs selectionnés, portées inscrites au livre des origines françaises, LOF.
Chihuahua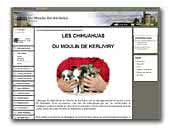 DU MOULIN DE KERLIVIRY Chihuahuas
The Moulin de Kerliviry chihuahua's breed, is situated at the top of Brittany, in the county of Finistére. My family and i have been captivated by this wonderful breed for over twenty three years now. We started out with our pet chihuahuas, which increased our interest and admiration for the breed.

We breed only smooth coat chihuahuas in the best line from europe and North America. We have been very lucky to have sourced some of the nicest and well bred dogs from the most prestigious kennels in Europe. We have aquired some beautiful dogs from as close as Petits Mickey in Belgium, Of Wyldsmoor in France, Dewdrop in Canada, Schroeder's and Outwest's in USA. We are extremely grateful to the breeders for entrusting us with these dogs.

We DO NOT breed MERLE Chihuahuas, our lines are free of these genes even in our chocolate or blue production.
We breed true to the breed standard and aim for typey, well proportioned and healthy dogs with an outgoing nature and good character. All our dogs are LOF registered (national french studbook).

We will remain a small kennel as we always want our dogs to live inside the home with us, that is our priority.

If you are interested in a puppy from us or have any questions, please feel free to email or call us. If you are emailing, please include your full name, affix (if you have one), your experience with chihuahuas, and what you are looking for.
Chihuahua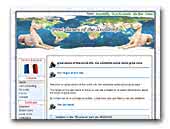 great-danes-of-the-world.info
The worldwide portal about great dane. A lot of usefull informations about great dane: breed clubs, standards, rescue associations, etc. ... and a list of breeders in all over the world including of course Europe.

Le portail mondial du dogue allemand. Un grand nombre d'informations utiles sur le dogue allemand: les clubs de race, les standards, les associations de sauvetage, etc. ... et une liste d'éleveurs dans le monde entier y compris bien sûr en Europe.
Great Dane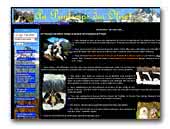 Elevage du Printemps des Olivets
Notre Passion : Nos Chiens ....

Elevage au Grand Air des Montagnes de l'Oisans sur un domaine de 5 hectares
Bernese Mountain Dog
Havanese
Tatra Shepherd Dog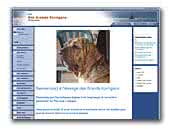 Elevage des Grands Korrigans
Elevage passion de fila brasileiro et de Dogue allemand.
Fila Brasileiro
Great Dane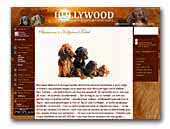 Hollywood Teckel
Bienvenue dans notre élevage familial deTeckels Nains et Kaninchens à poils longs.

A travers ces quelques images, nous espérons vous faire partager notre passion...

Nos Teckels ... Ces petits bouts ont tout des grands !!!  Un caractère en or, une joie de vivre , et un amour inconditionnel ... Sur le ring ou sur le canapé , ce sont nos petites stars à quatres pattes ... Quand à leur couleur , évidemment nous adorons le fauve, mais nous aimons aussi le noir et feu et puis l'arlequin , et enfin ma douceur préférée , le chocolat ...Tout ce petit monde est élevé en famille avec nous ,   et les chiots qui naissent à la maison , sont tous issus de parents primés ou selectionnés pour leur beauté et leur bon caractère ... Si vous avez la moindre question , n'hésitez pas à nous contacter au tél ..., nous nous ferons un plaisir de vous guider ...

Bonne visite ...
Dachshund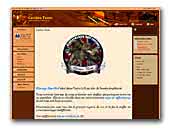 Cariños Team
Élevage familial de Staffordshire Bull Terrier en Isère (France).
Staffordshire Bull Terrier
« Prev 1 2 3 4 5 6 7 8 9 10 11 12 13 14 15 16 17 18 19 20 21 22 23 24 25 26 27 28 29 30 31 32 33 34 35 36 37 38 39 40 41 42 43 44 45 46 47 Next »