Dog Breeders > France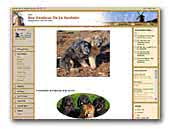 Des Gardiens de la Houlette
Cao da serra des aires share my daily life since 1993. I breed them with passion and with a great respect toward the breed and its standard. I show regularly my dogs in Portugal and I even register them to the national club show of this breed.

I build a special cooperation with Portuguese breeders for using best linen in selection, beauty and work I mean. The quality of my puppies is well known in several countries, south Africa, Germany, Belgium, Canada, Finland, France, Nederland, Luxembourg, tchequia, suisland and united states. Ma reputation is bases on my great serious, healthy and well balanced puppies is my only aim for the happiness of their future families.
Portugese Sheepdog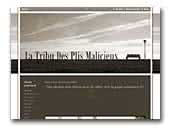 Les Plis Malicieux
Un jour une rencontre, un coup foudre, une passion. Voilà comment nous décrivons notre amour pour nos compagnons. Se seras avec plaisir de vous renseigner et d'échanger avec vous sur cette race autant atypique que adorable.
Shar Pei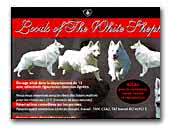 LORDS OF THE WHITE SHEPHERD
Nous sommes dans les Bouches-du-Rhône (13.

Sèclections rigoureuses dns nos lignées,parents ayant nombreux titres de beautés, travail : T.A.N, C.S.A.U, T.A.T, CERTIFICAT R.C.I, R.C.I 1 et BREVET RING. Nous nous réservons le choix des futurs maîtres pour nos chiots tous inscrits au LOF.

Venez visiter notre site web et n'hésitez pas à nous contacter pour plus de renseignements.
White Swiss Shepherd Dog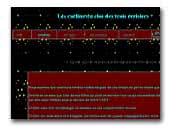 carlins des trois cerisiers
I am little breeder of fawn and black pug in France.
Pug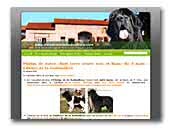 Domaine de la Badouillère
Elevage de Terre Neuve
Site dédié à notre pension canine et notre élevage de Terre Neuve. Retrouvez un maximum d'informations sur le Terre Neuve, conseils de toilettage, éducation du chiot et de nombreuses photos.
Newfoundland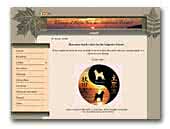 Elevage d'Akita Inu des Seigneurs d'orient
Nous vous invitons à venir découvrir cette superbe race, nos chiens, nos chiots et notre élevage.
Akita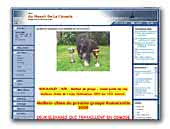 Manoir de la Closerie - Brenne Sauvage
Le site de deux élevages qui travaillent en collaboration depuis plus.
Portugese Sheepdog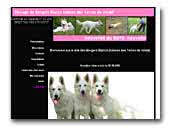 LES TERRES DE VOLDAÏ
White Swiss Shepherd breeder in France. Puppies with complete FCI pedigree from excellent bloodlines. Parents A/0, MDR1 tested, possessing french character tests.
White Swiss Shepherd Dog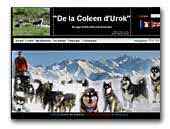 De La Coleen d'Urok
Familial breeding of  sledding dogs of Alaskan Malamute breed with blog, FAQ, description, standard, photos et videos, webcam, pedigree, genealogical tree, activities, hiking, walks, mountain-biking, in the Hautes Pyrénées, France

Elevage familial de chiens de traineau de la race Alaskan Malamute avec blog, faq, description, standard, photos et vidéos, webcam, pedigree, généalogie, activités randonnées, montagnes, VTT, dans les Hautes Pyrénées, en France.
Alaskan Malamute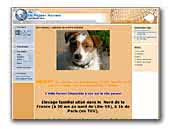 Elevage De Pepper Harrow
Elevage familial de Jack Russell, origines Australiennes, situé dans le  Nord de la France: Lille-59.

Passionnée d'agility, je fais une sélection rigoureuse afin d'avoir des chiens équilibrés, joueurs, beaux et en bonne santé.
Jack Russell Terrier
« Prev 1 2 3 4 5 6 7 8 9 10 11 12 13 14 15 16 17 18 19 20 21 22 23 24 25 26 27 28 29 30 31 32 33 34 35 36 37 38 39 40 41 42 43 44 45 46 47 Next »