Dog Breeders > France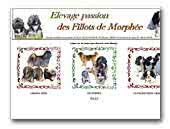 Elevage Lhassa Apso des Fillots de Morphée
Elevage de Lhassa Apso LOF uniquemen. En Haute Marn (France). Parents visibles, chiots élevés à la maison avec passion et sérieux. Toutes couleures dont NOIRE !! Visites bienvenues sur RDV.
Lhasa Apso
Cavalier King Charles Spaniel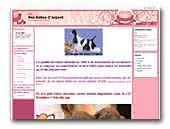 Des Robes D'argent American Cocker
Des cockers américain de toutes les couleurs.
American Cocker Spaniel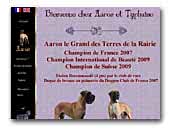 Les Grandes Terres d'Aaron
Fawn and brindle great danes in Brittany. I have also a multi champion fawn male.

Visit our Website and do not hesitate to leave a message on our Guest Book !
Great Dane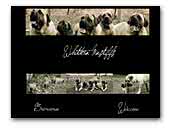 Whititera Mastiffs
Welcome in the Whititera Family!!!

Our dogs come from England, Spain, USA and from Brazil ... We selected European blood (Kumormai, Brookview, Del Fracasso, De Molossie) and American blood (Iron Hills, Southport, Caledonia, Chaputepek)

If we went so far, it is, in the first place, for working on prestigious lineages to obtain typical dogs as we like them. All of our dogs are a part of our familly. We also put a point of honor in the socialization of ours mastiffs as they are all educated whitin our family.
English Mastiff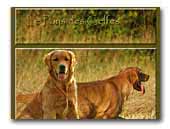 du Pays des Gelfes Golden retriever
Depuis 1990, nos goldens accompagnent chaque moments de notre existence. Elevage familial, les portées sont rares, mais chaque saison est ponctuée par les entraînements à la chasse, les working test, et quelques expositions. Race d'exception, le golden mérite de s'épanouir dans le cadre pour lequel il a été conçu.
Golden Retriever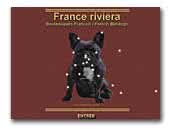 France Riviera
Bouledogues français / french Bulldog
Diverses informations sur la race ainsi qu'une presentation de nos Bouledogue français, ...
French Bulldog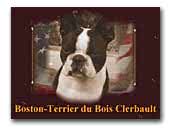 du Bois Clerbault Boston Terrier
Selective breeding of Boston Terrier in France since 1998. All dog are good temperament, health and Beauty. Patelias, Hereditary Jvenile Cataracts, BAER and Eyes Cerf Also information to my Website.
Boston Terrier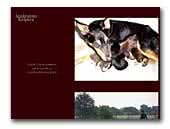 sonntag.nl/kelpie
Small Kelpie breeder in France. We aim to breed healthy dogs with good temperaments and capable of using their brains.
Australian Kelpie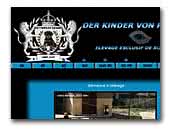 Der Kinder Von Rangers
Elevage de rottweiler
DER KINDER VON RANGERS
Elevage de rottweiler dans le sud de la France entre Marseille et Toulon. chiot rottweiler lof disponible toute l'année. Visite possible de l'élevage.
Rottweiler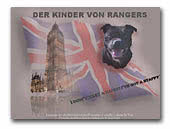 DKVR Staffordshire Bull Terrier
Small kennel of staffordshire bull terrier in south of France. French and english bloodlines.
Staffordshire Bull Terrier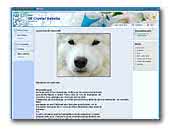 Of Crystal Sabaka Samoyeds
Familial breeding of Samoyed in France. We breed them with passion, love and serious. The Samoyed is such a wonderful dog.
Samoyed
« Prev 1 2 3 4 5 6 7 8 9 10 11 12 13 14 15 16 17 18 19 20 21 22 23 24 25 26 27 28 29 30 31 32 33 34 35 36 37 38 39 40 41 42 43 44 45 46 47 48 49 50 51 52 53 54 55 56 57 58 59 60 61 62 63 64 65 66 Next »