Dog Breeders > France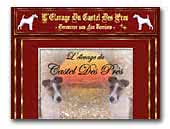 L'élevage Du Castel Des Près
Welcome Site of Fox Terrier Smooth.

Bienvenue, l'élevage Du Castel Des Près vous présente ses fox-terriers à poil lisse.
Fox Terrier Smooth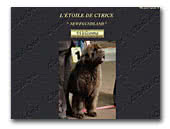 DE L'ETOILE DE CYRICE
Visitez notre site et découvrez au travers de nombreuses photos, nos magnifiques Terre-neuve noirs, bruns et blancs et noirs. Informations sur nos portées actuelles et à venir. Nous vous souhaitons une agréable visite.

Visit our site and discover through many photographs, our splendid Newfoundland black, brown and white and black. Information on our current ranges and to come. We wish you a pleasant visit.
Newfoundland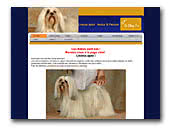 Lhassa Apso De Ziling Tso
Nous sommes un petit élevage familial. par cette Nous les élevons avec amour et passion en famille.
Lhasa Apso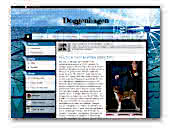 DOGGENHAGEN
I am expecting for the end of april 2008 a litter of Aidis (chiens de l'Atlas) between: UDFEL D'ARAVAL (female) World champion 2006 in Poznan (Pol), European champion in Tulln (Austria) in 2005 and in Zagreb (Croatia) in 2007, International, France, Belgium, Luxemburg, Netherlands, Germany VDH, Italy, Denmark, Croatia, Poland champion, with OUZRO DE LA BAUME CROMAGNON, International, France, Belgium, Luxemburg, Morocco champion.
Aidi / Atlas Shepherd Dog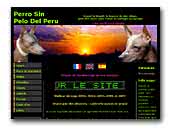 ELEVAGE DE L'ORCHIDEE DE LUNE
Elevage de Perro sin pelo del Peru Une seule passion et une seule race élevée. Exportation dans le monde entier. Nombreux champions à l'élevage.
Peruvian Hairless Dog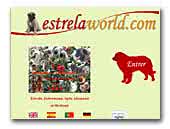 Lords of the Valley of the Isle
Portuguese breeder of selected Estrela MD, LOF registered, breeders international champions, for shows, work (flocks, obediance, team and tracking) or company, dogs bred in France, in family near horses and goats.

DNA Identification and parentage for the pedigrees, hearth, hips and eyes deseases detected, strows of frozen semen for stud service. Great quality in a great look for a great mind ! Thanks for visiting us.
Estrela Mountain Dog


Észbontó Kuvaszkennel
Welcome to the Észbontó-Kuvaszkennel. We are a small kennel who breeds Kuvasz in home enviroment.

Bienvenue chez Észbontó-Kuvaszkennel. Elevage familial pour la beauté et la noblesse du Kuvasz.

Willkommen im Észbontó-Kuvaszkennel. Wir sind eine kleine Hobbyzuchtstätte und unser bestreben ist es familienfreundliche und gesunde Kuvaszog zu züchten.
Kuvasz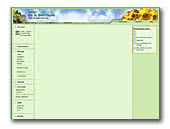 ELEVAGE DE LA BOUTINAIS
Elevage canin depuis 1989 à la campagne en Basse Normandie (France) produisant Caniche gris, Bichon à poil frisé, Dogue allemand 5 couleurs et Saint-Bernard poil long et poil court.
Poodle
Bichon Frise
Great Dane
Saint Bernard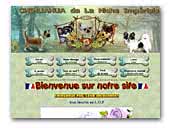 De la Niche Impériale Chihuahua
French breeder's chihuahua long coat since 1993.
Chihuahua


DOMAINE DE TOUNDRA Tibetan Mastiff
Puppies lines Champion !!! Dysplasia 0/0 (A/A).
Tibetan Mastiff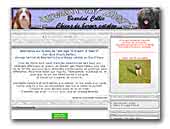 A dream of bear'd
Elevage familial de Bearded Collie et Berger catalan ou Gos d'Atura.
Bearded Collie
Catalan Sheepdog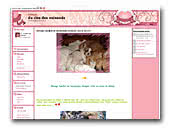 Elevage du clos des voinauds
Elevage Familial de bouledogues français et teckel à poil ras, inscrit au lof et FCI.
French Bulldog
Dachshund standard smooth
« Prev 1 2 3 4 5 6 7 8 9 10 11 12 13 14 15 16 17 18 19 20 21 22 23 24 25 26 27 28 29 30 31 32 33 34 35 36 37 38 39 40 41 42 43 44 45 46 47 Next »