Dog Breeders > France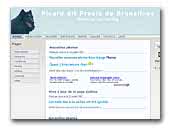 A Groenendael - Picard Precio de Brunalines
Website of the beautiful French dog of Brunalines breeding Picard de Brunalines. You'll find his palmares, photos, certificates, ...
Groenendael/Belgian Shepherd Dog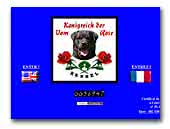 Vom Konigreich Der Rose Kennel
We have real passion for Rottweilers, and so we try to do the best using only some of the best bloodlines in the world, like GONZZO EARL ANTONIUS and his brother GRAF, MAMBO VON DER CROSSENER RANCH, AKINO VON DER LAUTERBRUCK, FILOU VOM RAUBERWEG, YOY VON DER CROSSENER RANCH, DACK FLASHROUSE, ARKO EARL ANTONIUS, RICK VON BURGTHANN, CRNI LOTOS Blood line, and many others ... Come to see us !
Rottweiler

con Tilia Boxers
Breeding quality Boxers.
Boxer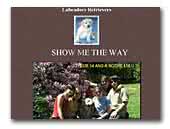 SHOW ME THE WAY LABRADORS

Welcome to SHOW ME THE WAY LABRADORS. Experienced breeders (17 years), near Bordeaux in FRANCE. We produce very nice puppies, excellent temperament and type. All our labs (females and males) have excellent hips and elbows and not carring PRA. We breed at home (they born and live with us, at home), chocolate yellow and black puppies.

We have 2 champion Ib at home, Chablais show me the way Web and Show me the way Trafalgar's winner : the 2 are recommended too (field trials). Please visit our website and leave a message on our guestbook !
Labrador Retriever
« Prev 1 2 3 4 5 6 7 8 9 10 11 12 13 14 15 16 17 18 19 20 21 22 23 24 25 26 27 28 29 30 31 32 33 34 35 36 37 38 39 40 41 42 43 44 45 46 47 48 49 50 51 52 53 54 55 56 57 58 59 60 61 62 63 64 65 66 Next »