Dog Breeders > Germany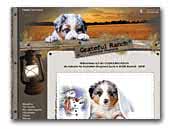 der Grateful-Mini-Ranch
Australian Shepherd
Erfahrene Zucht einer herrlichen Hunderasse.
Australian Shepherd

BRT's from TARA'S SARJA Kennel
Informationen über unsere Zucht *Schwarzer Russischer Terrier*/*Russischer Schwarzer Terrier*.

Information about our kennel *Black Russian Terrier*/*Russian Black Terrier*.
Russian Black Terrier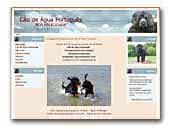 BOA FELICIDADE
Portugiesischer Wasserhund
Breeder of Portuguese Water Dogs in Germany. All our dogs live in the house with us where the puppies are raised as well. We test our dogs for HD, PRA, GM-1, JDCM and IC. For more information please visit our website.

Züchter von Portugiesischen Wasserhunden. Alle Hunde leben im Haus mit mir, wo auch die Welpen aufgezogen werden. Wir testen die Hunde auf HD, PRA, GM-1, JDCM und IC. Für mehr Informationen besuchen Sie bitte unsere homepage.
Portuguese Water Dog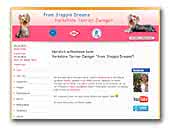 from Steppis Dreams Yorkshire Terrier
Diese Website beschreibt den Yorkshire Terrier Zwinger from Steppis Dreams (VDH/FCI). Schauen Sie sich Bilder und Videos unserer Hunde an und erfahren sie, ob wir im Moment Welpen abzugeben haben. Viel Spass! Hinterlassen Sie einen Kommentar oder Hinweis im Gästebuch! Vielen Dank.
Yorkshire Terrier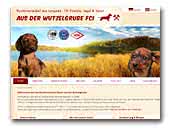 Aus der Wutzelgrube
wirehaired dachshunds
Welcome to the kennel "aus der Wutzelgrube" in Germany. We breed standard wirehaired dachshunds in the colors red and dark wildboar. We attach great importance to the selection of breeding stock and a good character and socialization of our puppies. All our dogs have great show quality.
Dachshund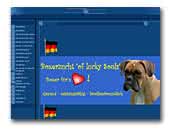 of lucky Souls - German Boxer
Dog Breeder since 1984.
German Boxer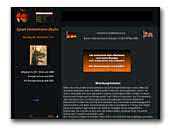 Working-Dobermankennel von Spellen
It's a pure working-line kennel. We don't produce confirmation-dobers.
Dobermann
« Prev 1 2 3 4 5 6 7 8 9 10 11 12 13 14 15 16 17 18 19 20 21 22 23 24 25 26 27 28 29 30 31 32 33 34 35 36 37 38 39 40 41 42 43 44 45 46 47 48 49 50 51 52 53 54 55 56 57 58 59 60 61 62 63 64 65 66 67 68 69 70 71 72 73 74 75 76 77 78 79 80 81 82 83 84 85 86 87 88 89 90 91 92 93 94 95 Next »