Dog Breeders > Germany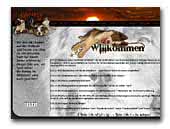 Ashegri's Border Collie Kennel
Mein Ziel ist es wesensfeste, leistungsbereite, intelligente Border Collies mit einem soliden Temperament zu züchten.

My goal is to breed mentally sound, intelligent border collies with will-to-please and good temperament.

Ich möchte weder Arbeitsjunkies, die völlig überdreht ihre eigenen Schatten behüten, noch möchte ich Plüschmonster, die bei dem Kommando "sitz" einen völlig unverständlich anschauen.

I do not want oversensitive workaholics who chase their own shadows or pure Showdogs who have no idea what "work" means.

Für mich ist der Border Collie ein Freund, mit dem man Abenteuer erlebt und gemeinsam arbeitet, sei es bei der täglichen Arbeit auf der Schafskoppel, beim Einsatz in der Rettungshundestaffel oder beim Dogdancing im örtlichen Hundesportverein.

For me the border collie is a friend to go on adventures and to work with, be it daily work with sheep, rescue dog or dogdancing.
Border Collie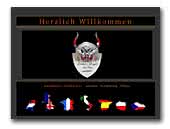 Deutsche Doggen del Toro
We breed the German Great Dane in black and white spotted black. We are a member and registered breeder in DDC 1888 eV and the VDH! At times, we make beautiful puppies. If you want to learn from us, please visit our homepage.
Great Dane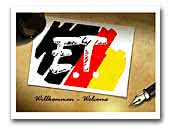 Eddys Teddys
We are a breeder from Germany of quality Newfoundland Dogs. We breed for type in line with the breed standard. All dogs live in our home as part of our family. Puppies sometimes available.
Newfoundland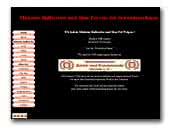 von der Schwedenschanze
Miniatur Bullterrier und Shar Pei
Miniatur Bullterrier und Shar Pei Liebhaberzucht.
Miniature Bull Terrier
Shar Pei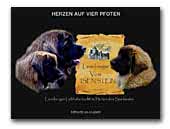 VOM ISENSTEIN Leonberger
Im Herzen des Saarlandes haben wir eine kleine, aber feine Leonbergerzucht. Unsere Hunde sind Familienmitglieder und leben mit uns im Haus.

Zweitweise haben wir kleine Löwen abzugeben. Wenn Sie mehr über uns wissen wollen, dann besuchen sie uns auf unserer Homepage.
Leonberger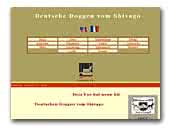 Deutsche Doggen vom Shivago
Deutsche Doggen vom Shivago DDC1888e.V

We breed Danes in black & harleqin with white colour.
Great Dane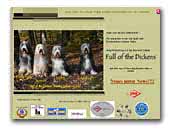 Full of the Dickens Bearded Collies
We have been breeding this terrific breed since 12 years. Within that time, we have had 10 litters, all of which we are very proud. We strive to breed healthy Bearded Collies with wonderful dispositions which are a joy to live with.

If you have any questions regarding our dogs and puppy-planning, then please don't hesitate to contact us. We are happy to hear from you.
Bearded Collie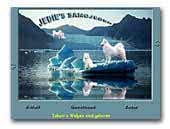 Jedie's Samojeden
Wir haben eine verantwotungsbewußte FCI/DCNH Zucht. Wir möchten die Vielseitigkeit des Samojeden weiter erhalten, darum fällt bei uns so ein- bis zweimal im Jahr ein Wurf.

Wir achten sehr darauf, dass die Eltertiere gesund sind und eine guten Charakter haben.
Samoyed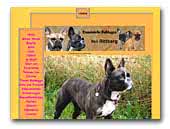 Französische Bulldoggen Von Rittberg
Liebhaberzucht Französischen Bulldoggen Von Rittberg. Kleine feine Liebhaberzucht in Nordhessen.
French Bulldog
.

.