Dog Breeders > Germany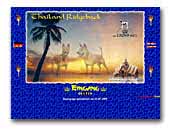 vom Crown Hill Thailand Ridgeback
Eine seltene, aussergewöhnliche, ausdruckstarke, exotische Hunderasse vom Uhrtyp.
Thai Ridgeback Dog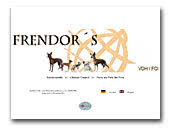 Frendor's
Breeder of Top Quality hairless dogs, sinc we more than 15 years. Our Dogs are registrered with FCI/VDH.
Chinese Crested Dog
Mexican Hairless Dog
Peruvian Hairless Dog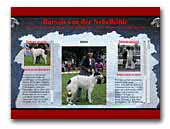 von der Nebelhöhle Barsoi
Barsoi Zuchstätte von der Nebelhöhle - Borzoi Kennel von der Nebelhöhle. Reich illustrierte und informativ gestaltete private Homepage zu meiner Hobby Barsoizucht. Mitglied im Deutschen Windhungzucht- und Rennverband (DWRZV) Von Zeit zu Zeit haben wir standartsnahe, wesensfeste und sehr gut sozialisierte Welpen abzugeben.

Unsere Hunde wachsen bei uns im Haus mit Kindern und Katzen auf. Gerne informieren wir Sie auch persönlich über den schönsten Hund des Zaren!
Borzoi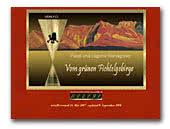 Vom grünen Fichtelgebirge
Poodle und Lagotto Romagnolo
We breed over 20 years Poodles, in a small breeding. The Lagotto is new in my Kennel and we like it so much.

The Kennelname - Vom grünen Fichtelgebirge- stand for much Champions.
Poodle
Romagna Water Dog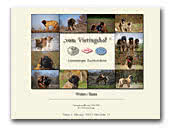 vom Vietingshof Leonberger Zucht
Wir stellen  hier unsere Liebevolle Hobbyzucht in VDH-FCI-DCLH vor. Auf unsere  Seite können Sie mehr über uns, unsere Leo´s und unsere Zucht  erfahren. Informationen zur Rasse Leonberger, umfangreiche Bildergalerie, sowie aktuelle Zuchtpläne.
Leonberger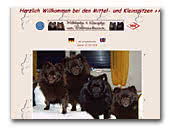 vom Bollmannbrunnen
Mittelspitze und Kleinspitze
Individual breeding, home of brown Mittelspitzes an Kleinspitzes.
German Spitz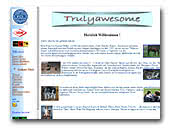 Trulyawesome Australian Shepherds
Breeder of top quality Aussies since more than 10 years. Our dogs are registered with FCI (VDH/CASD) and ASCA.
Australian Shepherd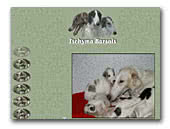 Ischyma Barsois
Rich illustrated website about our borzoi-kennel Ischyma. About our borzois, about our litters and about our breed.
Borzoi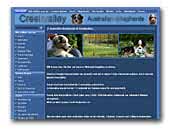 Creekvalley Australian Shepherds
Our dogs are raised in the family. We breed FCI according to the breeding regulations of the CASD, VDH, under compliance of the valid animal protection regulations and the acknowledged breeding order of the above-mentioned associations. As breeders we must fulfill certain conditions and editions so that our pups receive their acknowledged papers.

Our pups are given with papers VDH/CASD, worm-free, with inoculations. A VDH/CASD Ahnentafel confirms that to you your pup from a controlled breeding come. To delivery of our pups we are available still with pleasure also afterwards with council and action.
Australian Shepherd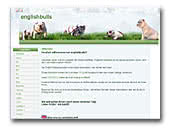 englishbulls.eu
We are living in germany, and loves English Bulldogs! Our Bulldogs are very healthy, happy and lives in the house with us like our childrens! Sometimes puppies available!!!
English Bulldog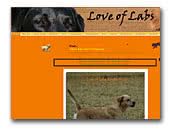 Kennel Love of Labs
Schauen Sie sich meine Homepage an und machen Sie sich ein Bild über meine Art zu züchten.
Labrador Retriever
« Prev 1 2 3 4 5 6 7 8 9 10 11 12 13 14 15 16 17 18 19 20 21 22 23 24 25 26 27 28 29 30 31 32 33 34 35 36 37 38 39 40 41 42 43 44 45 46 47 48 49 50 51 52 53 54 55 56 57 58 59 Next »