Dog Breeders > Germany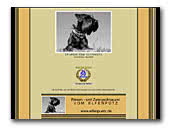 Riesen- und Zwergschnauzer vom Elfenpütz
Wir züchten schwarze Riesenschnauzer und scwarze und schwarz-silberne Zwergschnauzer.
Giant Schnauzer
Miniature Schnauzer

Tibimaxe Tibetan Mastiffs
Information about the Tibetan Mastiff or Dogue du Tibet, called Do Khyi. Is it the right breed, whats to knew about the nessisarity in environment, training and life in the family. Information about the history of the breed since start breeding in the westerner world.
Tibetan Mastiff
Tibetan Spaniel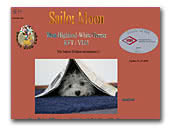 Sailor Moon West Highland White Terrier
West Highland White Terrier Kennel in Germany.


West Highland White Terrier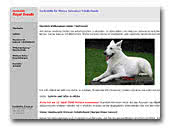 Royal Scouts
White Swiss Shepherd puppies with FCI Pedigree.

Royal Scouts Puppies in Munich (Germany) for sale to people which take the puppy with love and care! Both parents are beautiful with fantastic nature and good physical health.


Father Majestics Quick Baron HD A, MDR1 +/+ (Free)
Mother isha vom Weißen Wächter HD B, MDR1 +/+ (Free)
10 pups in total, 5 males and 5 females, half of litter reserved already.
Born: 12.04.2008; Handover as of: 07.06.2008.

For more information and reservation please contact Carsten Richters.
White Swiss Shepherd Dog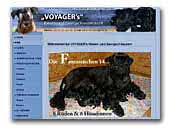 VOYAGER's Riesen- und Zwergschnauzer
Am 28.04.2008 wurden unsere schwarzen Riesenschnauzerwelpen geboren, es sind 8 Rüden und 6 Hündinnen. Für einige Rüden suchen wir ab Anfang Juli noch tolle schnauzerverrückte Familien.

V: Newcomer Nelson von der Klinger; WT: 10.03.2002; HD 0 Frei von erblichen Augenerkrankungen

SPORT: AD, BH, VPG 3, IPO 3, FH 2
Körung: 1.1.2.1 - Körklasse 1

Teilnehmer Deutsche Meisterschaft für Riesenschnauzer VPG 2005
Teilnehmer Deutsche Meisterschaft für Riesenschnauzer VPG 2006
Teilnehmer Deutsche Meisterschaft für Riesenschnauzer FH 2006
Teilnehmer Weltmeisterschaft für Riesenschnauzer VPG 2007

SGSV Kreismeister 2006
PSK Landesmeister FH 2006
PSK Landesmeister FH 2008
SGSV Kreismeister 2007

Deutscher Meister 2000 m Geländelauf 2003
Deutscher Meister 5000 m Geländelauf 2003
Landesmeister Thüringen 2004 im Vierkampf
Landesmeister Thüringen 2005 im Hindernislauf
Landesmeister Thüringen 2005 im 5000 m Geländelauf

AUSSTELLUNGEN:
VDH Landesjugendsieger Thürüringen 2003
VDH Jugendsieger Frankfurt/M. 2003
VDH Sieger Dresden 2004
KLUBSIEGER
DEUTSCHER CHAMPION PSK
DEUTSCHER CHAMPION VDH
BELGIAN WINNER 2004
KLUB-CHAMPION
ISPU-KLUBSIEGER
Sieger Wijchen/NL 2005
INTERNATIONALER CHAMPION

M: My Batida von der Fortuna-Ranch HD 0, AD, BH, Klubjugendsieger, Klubsieger
Giant Schnauzer
Miniature Schnauzer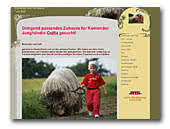 von Rüx Komondor und Puli
Komondor und Puli gehören in Deutschland noch zu den seltenen Rassen.  Wir haben uns ihrer Zucht verschrieben und züchten unsere Hunde als Liebhabertiere.
Komondor
Puli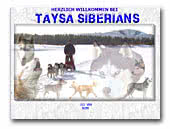 Taysa Siberians
Siberian Husky Kennel foundation dogs based on the old classic Monadnock Line. Careful breeding program. Come and visit us and meet the dogs.
Siberian Husky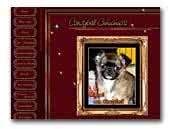 von Candybell - Chihuahua
Welcome to all Chihuahua Friends!
Chihuahuas belong to one of the wonderfull Dog-Personalities. They are happy, brave, intelligent and especially proud. This feature are important in our breedingprogram. With infinitive and passion we are breeding after the standard and under the FCI with the kennelname "Chihuahua von Candybell".

Our dogs are growing up with best care. We put on value on a good social coinage, so that the living together with them becomes from beginning for a true pleasure, mutual profit and to the joy. We achieve this precoinage, while our chihuahuas live integrative as members of the family. So our puppies congeners and also grow up with us. In our small but fine breeding value on excellent Geno-and Phänotypus - faithful to our principle after which beauty, health and being firmness show a well balanced unity.

We promote this natural balance in our dogs, among other things by a excellent food which we hold in particular with smallest-races for inalienable, as well as by a comprehensively straightened, certified veterinary care. Quality goes for us in every regard before quantity, which is why we reserve ourselves to deliver our chihuahuas only to select holders and breeders - just in those best hands which these miraculous dogs earn. We are glad very much about your interest. Furthermore a lot of joy on our pages.
Chihuahua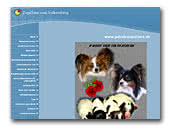 vom Volkersberg Papillons
Papillons are wonderful. I love this intelligent and lovely ellegant kind of dogs. We breed under FCI-VDH and all our breedingdogs are free of PL and PRA.
Papillon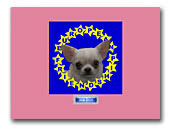 European Friendship Chihuahuas
Short and long hair Chihuahuas. We are breeding with excellent lines.
Chihuahua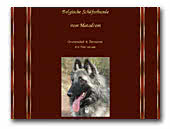 vom Motodrom
Groenendael & Tervueren
Groendael & Tervueren since 1982.

Belgian Shepherd Dog
.

.