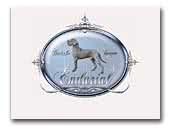 ENDURIAL
Specialbreed of noble Great Danes
Our breeding goal ist he impressive, proud, strong, noble, harmonic, healthy, longliving and gentle Great Dane, which is leaving a unique mark and permanent impression: An ENDURIAL-Dog!

We're mating exclusively excellent and chosen Great Danes of European Blood- & Championlines of the FCI/VDH. We present our dogs successfully at International shows. The offspring of our Danes lives on several different continents and is successful, too.

Our dogs and puppies live with us, grow up in the house, garden, dog-house with outrun, other dogs and animals. They are our permanent companions.

Thus they learn quickly to get a along with their neccessary environment and will be given to their new homes well-conditioned at the age of 8 weeks, including a health certificate.

We will assist our puppy buyers at any time!
Great Dane