Dog Breeders > Germany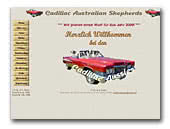 Cadillac Australian Shepherds
Breeder of Australian Shepherds in Germany. We breed quality Aussies for Show, Sports and family dogs! Aussies for Show & Fun !!
Australian Shepherd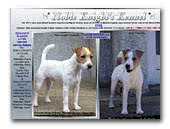 Noble Knight's Jack Russell Terrier Kennel
Quality bred Jack Russell bred from the very best Champion Show & Work Kennels in Jrtc of Great Britain. We have 7 English Ch imports,2 German bred and a Stud dog with JRTCA of America bred parents.

We have exported Dogs to JRTCA of America kennels France, Sweden also booked puppies for export. We have young stock occasionally for sale some show quality youngsters for sale too.
Jack Russell Terrier

Amazing Angel Australian Shepherd
Hello
My Name is Jenny, i live with my two Aussie Girls in German. My Dogs are a part of my live and they were everytime on my side.

Puppys were born in my sleepingroom and grow up there for the first three weeks, then they come with us in the living room and outside in the garden. When you want more, please fell free to visit us on our Homepage.
Greetings Jenny
Australian Shepherd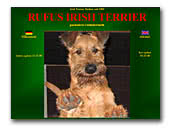 Rufus Irish Terrier
Dedicated breeder of Irish Terrier since 1983.
Irish Terrier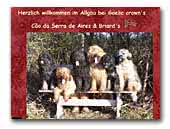 Gaelic crown's
Together with our dogs we live in the beautifull Allgäu (Bavaria) near to Kempten in a small village called Günzach.

Currently in our Cannel are 2 Briards and 4 Cao da serra des Aires. Our dogs life integrated and with close contact in our family life. Our puppys grow up in our (often crowded) living room or - depending on the season also in the garden and at their puppy playground. They get optimal preparation for their further life in their new families and good socialisation.

For many years I work with my own and other dogs in several kinds of dog sports and working education. (dayly life competence, Obedience, Agility, rescuedog, guardiancedog, companiondog, work at sport an rescuedog tools, therapie of dogs with behaviour problems) Now I fell in love with Dogdancing an Obedience, both trained by click and treat and me and my dogs have much fun with it.

My Breedingdogs are all free from hip-disorder (HD) and of course all pups have VDH/FCI document, are vaccinated, have worm profilaxe , mikrochips and examined by a vet when they leave us to move to their new families. Aditionally every new dog owner gets an information folder about puppies. Giving advice to my puppies new people before and after they get their dogs is very important to me.
Portugese Sheepdog
Briard
« Prev 1 2 3 4 5 6 7 8 9 10 11 12 13 14 15 16 17 18 19 20 21 22 23 24 25 26 27 28 29 30 31 32 33 34 35 36 37 38 39 40 41 42 43 44 45 46 47 48 49 50 51 52 53 54 55 56 57 58 59 60 61 62 63 64 65 66 67 68 69 70 71 72 73 74 75 76 77 78 79 80 81 82 83 84 85 86 87 88 89 90 91 92 93 94 95 Next »