Dog Breeders > Germany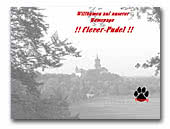 Clever-Pudel
Hobbyzucht von Klein und Zwergpudel
Wir züchten Klein und Zwergpudel in der Farbgebung Black&Tan und Harlekin. Wir haben uns das Ziel gesetzt gesunde, wesensfeste, schöne und leistungsfähige Familienhunde zu züchten. Die Elterntiere sind PRA- und PL frei.

Die Welpen werden im Haus und Garten aufgezogen und werden selbstverständlich entwurmt, geimpft, gechipt, mit dem EU-Heimtierausweiß und mit der Ahnentafel vom DPK/VDH abgegeben.
Wir haben keine Zwingerhaltung!
Poodle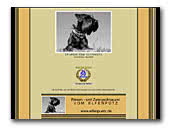 Riesen- und Zwergschnauzer vom Elfenpütz
Wir züchten schwarze Riesenschnauzer und scwarze und schwarz-silberne Zwergschnauzer.
Giant Schnauzer
Miniature Schnauzer

Tibimaxe Tibetan Mastiffs
Information about the Tibetan Mastiff or Dogue du Tibet, called Do Khyi. Is it the right breed, whats to knew about the nessisarity in environment, training and life in the family. Information about the history of the breed since start breeding in the westerner world.
Tibetan Mastiff
Tibetan Spaniel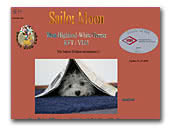 Sailor Moon West Highland White Terrier
West Highland White Terrier Kennel in Germany.
West Highland White Terrier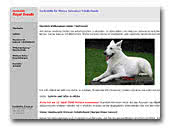 Royal Scouts
White Swiss Shepherd puppies with FCI Pedigree.

Royal Scouts Puppies in Munich (Germany) for sale to people which take the puppy with love and care! Both parents are beautiful with fantastic nature and good physical health.


Father Majestics Quick Baron HD A, MDR1 +/+ (Free)
Mother isha vom Weißen Wächter HD B, MDR1 +/+ (Free)
10 pups in total, 5 males and 5 females, half of litter reserved already.
Born: 12.04.2008; Handover as of: 07.06.2008.

For more information and reservation please contact Carsten Richters.
White Swiss Shepherd Dog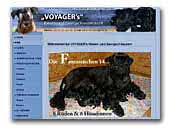 VOYAGER's Riesen- und Zwergschnauzer
Am 28.04.2008 wurden unsere schwarzen Riesenschnauzerwelpen geboren, es sind 8 Rüden und 6 Hündinnen. Für einige Rüden suchen wir ab Anfang Juli noch tolle schnauzerverrückte Familien.

V: Newcomer Nelson von der Klinger; WT: 10.03.2002; HD 0 Frei von erblichen Augenerkrankungen

SPORT: AD, BH, VPG 3, IPO 3, FH 2
Körung: 1.1.2.1 - Körklasse 1

Teilnehmer Deutsche Meisterschaft für Riesenschnauzer VPG 2005
Teilnehmer Deutsche Meisterschaft für Riesenschnauzer VPG 2006
Teilnehmer Deutsche Meisterschaft für Riesenschnauzer FH 2006
Teilnehmer Weltmeisterschaft für Riesenschnauzer VPG 2007

SGSV Kreismeister 2006
PSK Landesmeister FH 2006
PSK Landesmeister FH 2008
SGSV Kreismeister 2007

Deutscher Meister 2000 m Geländelauf 2003
Deutscher Meister 5000 m Geländelauf 2003
Landesmeister Thüringen 2004 im Vierkampf
Landesmeister Thüringen 2005 im Hindernislauf
Landesmeister Thüringen 2005 im 5000 m Geländelauf

AUSSTELLUNGEN:
VDH Landesjugendsieger Thürüringen 2003
VDH Jugendsieger Frankfurt/M. 2003
VDH Sieger Dresden 2004
KLUBSIEGER
DEUTSCHER CHAMPION PSK
DEUTSCHER CHAMPION VDH
BELGIAN WINNER 2004
KLUB-CHAMPION
ISPU-KLUBSIEGER
Sieger Wijchen/NL 2005
INTERNATIONALER CHAMPION

M: My Batida von der Fortuna-Ranch HD 0, AD, BH, Klubjugendsieger, Klubsieger
Giant Schnauzer
Miniature Schnauzer
« Prev 1 2 3 4 5 6 7 8 9 10 11 12 13 14 15 16 17 18 19 20 21 22 23 24 25 26 27 28 29 30 31 32 33 34 35 36 37 38 39 40 41 42 43 44 45 46 47 48 49 50 51 52 53 54 55 56 57 58 59 60 61 62 63 64 65 66 67 68 69 70 71 72 73 74 75 76 77 78 79 80 81 82 83 84 85 86 87 88 89 90 91 92 93 94 95 Next »