Dog Breeders > Germany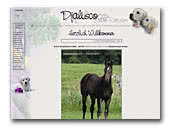 DJALISCO Golden Retrievers
Kennel of english type Golden Retrievers. Home of WW06 ASHBURY VELVET KISS. Sometimes quality puppies available for loving homes.
Golden Retriever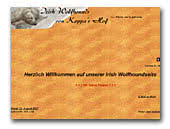 Irish Wolfhound von Koppas Hof
Wir züchten seit Jahren erfolgreich den Irish Wolfhound und geben zeitweise gesunde, sozialisierte und wesensfeste Welpen ab.
Irish Wolfhound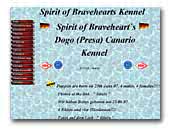 Spirit of Braveheart's Dogo Canario Kennel
Wir haben typvolle Dogo Canario Welpen abzugeben. Farbe: fawn und rot. Alle haben eine gute schwarze Maske. Die Eltern sind Importe - spanische Linien mit vielen Champions in der Ahnentafel. Die Welpen haben VDH/FCI Papiere.

We have puppies for sale - color fawn and red. Parents are import dogs - spanish lines with a lot of champions in their pedigree. Puppies have FCI papers!!!
Dogo Canario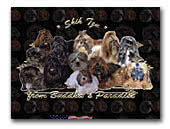 Shih Tzu from Buddha's Paradise
We breed Shih Tzu in exotic and rare colors like chocolate, orange liver, mahogany red and so on. We are a in home Breeder not a Kennel. Our Dogs and Puppies live with us in the House with a pay Yard.
Shih Tzu
« Prev 1 2 3 4 5 6 7 8 9 10 11 12 13 14 15 16 17 18 19 20 21 22 23 24 25 26 27 28 29 30 31 32 33 34 35 36 37 38 39 40 41 42 43 44 45 46 47 48 49 50 51 52 53 54 55 56 57 58 59 60 61 62 63 64 65 66 67 68 69 70 71 72 73 74 75 76 77 78 79 80 81 82 83 84 85 86 87 88 89 90 91 92 93 94 95 Next »