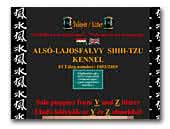 Alsó-Lajosfalvy Shih-tzu kennel
I have a small Shih-tzu kennel in Hungary.My kennel -Alsó-Lajosfalvy I have been since 1993, and my kennel is registred on FCI 1053/2010. My ain at going to very healthy and content puppies born my kennel, and very nice owners, who going to see, which really Shih - Tzu !!!

Anywhere 100% litter, but stirve to better and better. I believe, I step good way, and I work hard to better and better ....and this ain need too much purpose, patient, persistence, and luck! Please, see my page and enoy!
Shih Tzu