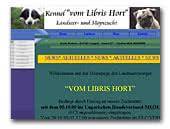 vom Libris Hort FCI/MEOE
Landseer and Mopskennel
We start to breed Landseer 1999 in our family ... we are a german family, who live since 2000 in Hungary and breed this friedly breed on our cottage ... This year (2008) we have our frist litter from our pugs. You can contact us in german, english or hungarian and we will answer all your questions ...
Landseer
Pug