Dog Breeders > Italy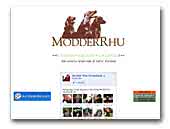 Modder Rhu Dreamland
Modder Rhu Dreamland is an Italian Red Irish Setter Kennel in the neighbourhood of Rome. In the site you can find a lot of pictures, news, jokes, and even more.
Irish Red Setter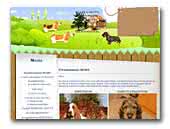 Allevamento Amatoriale DAL PINO'S
Bassethound e Bassotto a pelo duro
I have little amatorial kennel since 1992!
Basset Hound
Dachshund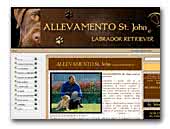 Allevamento St. John Labrador Retriever
Hi, we are a kennel located in Lombardy, a region in North West Italy. in our kennel we breed Labrador blacks, chocolate and yellow, we do this with much love and passion. We hope that if you decide to visit our site you will be satisfied.
Labrador Retriever

Divina Fortitudo
Allevamento e selezione dogo argentino
Divina Fortitudo seleziona da 14 anni esclusivamente la razza dogo argentino ottenendo soggetti importanti sotto l'aspetto morfologico e caratteriale.
Dogo Argentino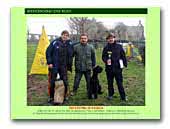 Riesenschnauzer NERO
Tutto quello che serve a conoscere il Riesenschnauzer nero. I nostri Riesenschnauzer neri.
Giant Schnauzer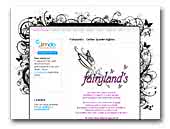 Fairyland's Cocker Spaniel Inglese
Fairyland's Cocker Spaniel Inglese - Il mondo fatato dei cockers!

Mi chiamo Niria, abito in provincia di Novara in un paesino a 2 passi dal lago.. dalla montagna..e dalle verdi colline novaresi! Sin da piccola mi sono innamorata di questa razza e quando ho avuto la possibilità di acquistare la mia prima cockerina..tra tante ho scelto lei.. Blakkendy della Giuliana..detta Chanel, una cockerina nera..e da lì..è stato un susseguirsi di emozioni!

Ho scelto questa stupenda razza perchè sa dare amore, gioia e felicità, senza chiedere niente in cambio..se non una carezza! Un'altra mia grande passione sono le fate, ecco perchè ho deciso di dare questo nome al mio allevamento.. Il compito che mi sono prefissata è quello di migliorare la razza, mettendo in riproduzione solo soggetti sani e testandoli per le principali malattie ereditarie:
PRA (atrofia progressiva della retina)
NF (nefropatia familiare)
HD (displasia)

Non verranno mai utilizzati soggetti affetti dalle malattie sopra indicate. Tutti i cuccioli saranno consegnati con libretto sanitario completo di tutti i vaccini, sverminazioni, microchip e soprattutto con il pedigree. Il pedigree è la carta d'identità degli animali, dove vengono indicati tutti gli antenati del cane (genitori, nonni, bisnonni e trisnonni). Tutti i cocker cresciuti nel mio allevamento saranno muniti di pedigree di ottime genealogie italiane ed estere e discenderanno tutti da ottimi campioni.

Ringrazio i miei genitori, mia sorella e il mio fidanzato che mi aiutano e mi sostengono sempre!

My name is Niria, i live in Italy, with my family, near lakes and mountains. I felt in love with cockers when i was a child, and when i was able to buy a dog..i choose Blakkendy della Giuliana, a black female. In my kennel all of my cockers are tested for PRA, NF and HD. I will never mate affected dogs! I sell puppies with italian pedigree, healthy and socialized with other dogs and humans!

I have to say thank you to my family, and to my boyfriend.. they always support me!
English Cocker Spaniel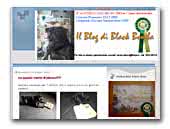 Allevamento del Bomba
Un piccolo allevamento di Carlini da esposizione e compagnia. Risultati in campionati nazionali, internazionali e al World Dog Show. Selezione per carattere, salute e tipicita.

We are a small successful show kennel of Pug dog. Having national and international champions and great result in the World Dog Show. We Breed for Temprament, Health, Type.
Pug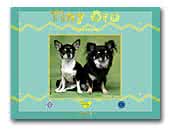 Tiny Oro Chihuahuas
We breed for the love of Chihuahua, all our chis are beloved members of our family. We are recognized ENCI-FCI.
Chihuahua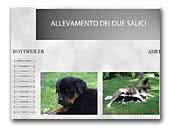 Dei Due salici Akitas/Rottweiler
We are a small family kennel placed in center Italy. Usually we have few pups/year, because breeding must to be ah hobby and not a work. Please visit our website: we'll be glad for this.
American Akita
Rottweiler
.

.