Dog Breeders > Latvia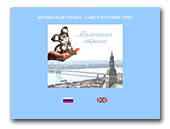 SMALL LAND
Small Russian Toy (Long hair) breeding from Small Latvia! We are breeding with excellent lines. All our dogs has the test of eyes and patella. Our dogs - all members of our family. They live and successfully participate at exhibitions of any rank. Puppies sometimes available.

Puppies are grown perfectly up, socialized and healthy, they have all obligatory inoculations and documents before move in the new house. We breed LKF\FCI according to the breeding regulations. Our puppies are given with pedigree LKF\FCI, worm-free, with vaccination, chip, pass. To delivery of our puppies we are available still with pleasure also afterwards with council and action. Welcome in our website!
Russian Toy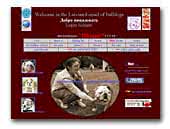 kennel of Rikmans bulldogs
Nursery "Rikmans" FCI-1998 Friends and admirers of breed an English bulldog! My partners, favourites and results are offered your attention Breeding work since 1994. The nursery is engaged in careful selection of breeding pairs and cultivation Bulldogs bright, massive, short and thickset.
English Bulldog
Japanese Chin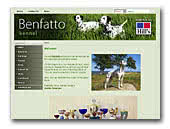 Kennel Benfatto - Dalmatian
We present Dalmatian Kennel Benfatto from Latvia. On our Home page you can read about dogs, which had been breaded in our kennel, you can feel happy for their success in the Dog Show, or You can leave a request to choose a puppy.

In breeding we do accent on nice temperament, correct movement and good top line, but we mainly prefer the best of scandinavian lines. In our kennel we can help you to choose the dalmatian puppy correctly, according to your wishes and requirements. We will consult You in questions of feeding, gladly share with You our experience about puppy cultivation and education, also we will give you some useful advices about how to correctly prepare your dog for the Dog Show. Welcome to our web site!
Dalmatian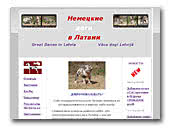 Great Danes in Latvia
All about Great Danes in Latvia. Show news, show results, breeders, puppies, kennels, and other useful info.
Great Dane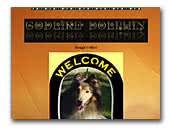 Godlike Dolphin
Wonderful collies with excelent pedegree. Show class collies. Mind blowing gifts, smart, elegant, inteligent and very very sweet as collies are. I have been a breeder since 1986 when i got my first collie and since then i didnt want any other dog.

Every year there are aviable puppies from our kennel with good blood and they are doing very good at dog shows. With every litter can see that they are getting better and better, smarter and just brilliant.
Collie Rough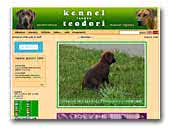 TEEPEE TEODORI
Our kennel is located in Latvia. We breeding quality Labrador Retrievers for temperament and health. Mostly chocolate colour.
Labrador Retriever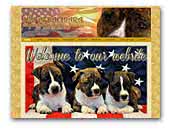 MIA ALBACHIARA
American Staffordshire Terriers
MIA ALBACHIARA is an FCI registered kennel since 2006. We've been in the dog world since 1994, came into AmStafs in 1998. Our dogs and puppies are house kept, raised in love and attention. They are our family members, not business.
American Staffordshire Terrier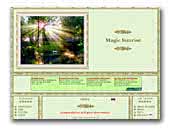 Magic Sunrise papillons
"Magic - Sunrise" is a small kennel, located in Riga, Latvia. Registered in FCI. All our dogs has the test of eyes (PRA) and patella (PL). Welcome to see our home page, here you can see many nice photos from dogs shows, pedigree and many interesting info about papillons.
Papillon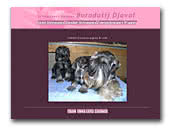 Borodatij Djavol
Black Giant schnauzers, p&s standart schnauzers and p&s, b&s zwergschnauzers kennel in Latvia.
Giant Schnauzer
Standart Schnauzer
Miniature Schnauzer